Norwich Cadets receive the Life Saving Award during Family Weekend
During Family Weekend, MG Mark Anarumo, Vermont State Militia, 24th President of Norwich University presented the Life Saving Award to CDT Matthew Peate, CDT Matthew Czaja, CDT Sheamus Finnegan, CDT Jacob Turner, CDT Maggie Lim, and CDT James Culp.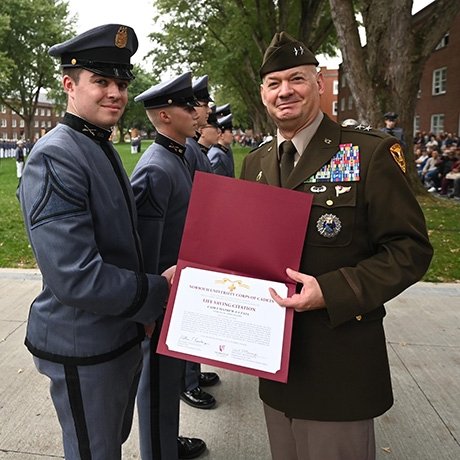 On Saturday, September 17th, while volunteering at the Turnbridge Fair, the six members of the Corps of Cadets witnessed a food vendor's wooden structure collapse. 
Without any hesitation, the Cadets immediately responded by lifting the heavy metal roof of the structure to check to see if anyone was trapped or injured. 
A mother was screaming frantically because her young daughter was indeed trapped under the rubble. Due to the quick actions of the Cadets, the child was pulled to safety and received medical attention once the Cadets lifted the structure off the ground. 
After reuniting the young girl with her family, the six Cadets cleared road access so emergency medical personnel could arrive on scene.

The quick action, strength, and concern for others by these six Cadets has brought great credit upon themselves, The Arnold Air Society, Air Force ROTC Detachment 867, Naval ROTC Battalion, and Norwich University.

The Life Saving Citation is the highest award bestowed upon a Cadet.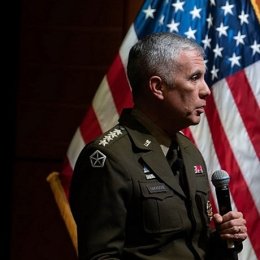 On Wednesday, November 8th, Norwich University signed an Educational Partnership Agreement with U.S. Cyber Command. This agreement coincided with a visit from General Paul Nakasone, Commander, U.S...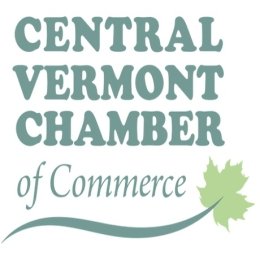 The 5th annual Vermont ATHENA Leadership Awards Gala will be held on December 2nd.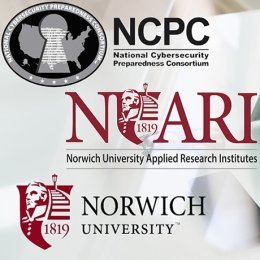 Norwich University Applied Research Institutes (NUARI) and Norwich University will share an $8 million grant from the Department of Homeland Security (DHS) and Federal Emergency Management Association (FEMA) with four universities for cybersecurity preparedness education courses.