History of Making a Difference
A History of American Education Innovation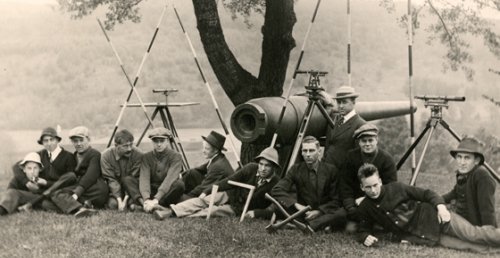 A History of American Education Innovation
Founded in 1819 as the nation's first private military college, Norwich University helped pave the way for an innovative model of higher education that has since been adopted by hundreds of colleges and universities. Pioneered by Norwich founder Captain Alden Partridge, this model combined broad-based liberal arts studies with experiential learning that took students out of the classroom and into the field to observe and apply academic theories in real life. The overriding goal was to help students become in-depth thinkers as well as capable doers so that upon graduation, they would be ready to make tangible contributions to their workplaces and the world at large.
Shaping Alumni Who Make History
Fast forward nearly two centuries later and that dual focus on thinking and doing is still a cornerstone of Norwich's academic model. Another foundation laid by Partridge (and informed by Norwich's military background) is a commitment to public service and leadership. That commitment is best illustrated by Norwich's alumni, who have helped advance our country's development in significant and diverse ways. Notable Norwich alumni include Edwin Ferry Johnson, chief engineer of the Northern Pacific Railroad in the 1880s; Harry Bates Thayer, president and chairman of AT&T in the 1920s; and General Gordon R. Sullivan, chief of staff of the U.S. Army in the 1990s.
Always Forward-Thinking and Doing
Norwich University's College of Graduate and Continuing Studies represents another innovative and ongoing chapter of Norwich's history. Established in 1997 with the launch of its first online master's degree program in diplomacy and military science, the College of Graduate and Continuing Studies and its online delivery platform, Norwich University Online, extend the Norwich academic model to approximately 1,200 current students - working adults and lifelong learners from around the world. Today it offers online master's degrees, bachelor's degrees programs, graduate certificates, and enrichment programs that enable motivated students to gain the knowledge and skills necessary to assume leadership positions in their fields and drive positive change in their communities.
Student-Centered Academic Excellence
Rigorous and relevant, Norwich's academic programs reflect the highest standards in teaching, curriculum development, and online education delivery. Norwich enlists academic subject matter experts from across the globe to develop courses that are highly informative and immediately applicable to students' careers. Norwich faculty members, in turn, bring those courses to life in the Norwich virtual classroom. Characterized by both broad professional experience and exceptional academic credentials, our faculty members have specialized training in online teaching and are committed to providing students with personalized support and guidance.
Our state-of-the-art Norwich University Online learning platform promotes a high level of interactivity among students and faculty. Classes are capped at 15 students to foster in-depth discussions and frequent one-on-one interactions. The high quality and flexibility of our online programs attract extremely motivated and talented students from diverse professional and cultural backgrounds. As a result, students often learn as much from each other as they do from their professors and leave our programs with valuable professional contacts and friendships.