Financial Aid for Master's Degrees
Financing Your Online Graduate Education
Tips and tools to help you pay for graduate school

You know that graduate school is your next step. You are confident in your decision to attend Norwich University. Now, here comes the question we hear most often: How do I pay for it? You have more options than you probably realize. In this brochure, we've compiled the key information you need about the available financial assistance.
Overview of Student Loans
Deciding on the best financial aid option for you can be difficult, but our admissions advisors are here to help you get the answers you need to make the best choice.
Your first step is to determine if you are eligible for financial aid. If so, you will want to apply for assistance as soon as possible.
To be eligible for financial aid you must meet the following criteria: 
1. Be enrolled in a degree-seeking program.
2. Not be in default or owe an overpayment of Title IV funds. 
3. Have a valid Social Security number.
4. Be a U.S. citizen or an eligible non-citizen with permanent residency status and an alien registration identification number (may not be required for some institutional programs).
5. Most male students, between the ages of 18-25, must be registered with the Selective Service.
6. Have not borrowed in excess of loan limits under the Title IV program.
7. Maintain Satisfactory Academic Progress per federal regulations (see details below).
8. Have all requested documents on file before disbursements can be made.
Please note that to be eligible for federal financial aid, federal regulations require schools to have a Satisfactory Academic Progress policy that assesses your progress after each term. For more information about Norwich's policy, please contact your enrollment advisor.
Financial Aid In-Depth:
Get a start here with our financial aid resources, then reach out to your enrollment advisor with specific questions.
It's not unusual for graduate students to take out loans. The question is what kind of loan— federal or private? Here's what you need to know: Traditionally, federal loans are a better option than private loans. The reason is that federal loans usually carry a lower fixed interest rate. Private loans will require a credit check and the amount requested is not always guaranteed. Private loans also tend to have variable rates that can increase over the course of the loan. However, personal loans from banks and credit unions can help supplement any federal financial aid you receive.
Loans & Interest
Traditionally, federal loans usually carry a lower interest rate. Private loans tend to have variable rates that can increase over the course of the loan.
TYPES OF FEDERAL LOANS
Federal Direct Unsubsidized Loan
This loan is available to all graduate students regardless
of financial need, and does not require a credit check. The current interest rate for the 2020–2021 academic year
is 4.30%*, and interest accrues from the time the loan is disbursed to the school. The borrowing limit is $20,500
per academic year, which covers full tuition and fees for most of Norwich's online master's programs. However, it is important to speak with your admissions advisor about your specific program of interest. The first step to qualify for an Unsubsidized Loan is to complete your Free Application for Federal Student Aid (FAFSA). Read on to learn more.
GradPLUS Loan
This loan is available to all students regardless of financial need as long as they do not have adverse credit. If a student has exceeded their $20,500 Unsubsidized Loan limit or has met their lifetime aggregate limit for the Unsubsidized Loan, they have the option to apply for the GradPLUS loan to cover any costs associated with the program while enrolled. There is a mandatory credit check, but you can determine if you are pre-approved at www.studentloans.gov. The current interest rate is 5.30%*. Your payments are deferred while you are enrolled at least half time, but interest will accrue on the loan. However, you can elect to make interest-only payments while you are enrolled. You will just need to
make these arrangements through your loan servicer. It's important to note that there is no grace period once you graduate/drop below half time status, and your loan will go into immediate repayment.
*Note: Interest rates were recorded in 2020. They are subject to change.
As the nation's first private military college, we believe in doing all we can to serve those who serve. Offering information regarding your military benefits as well as a special Norwich scholarship are just a few of the ways we choose to help.

Whether you're an active duty, reserve, or veteran member of the U.S. military, you may be able to qualify for more than one military benefit program. The key is to decide which is best for your situation in order to maximize your available benefits. Norwich University's admission advisors are happy to provide guidance every step of the way.
What is the FAFSA?
The FAFSA is the Free Application for Federal Student Aid and is required by the Department of Education in order for a student to be considered for federal aid (non-need based.) 
 
How is "Financial Need" determined?
Financial need is determined by subtracting your Expected Family Contribution (EFC), as determined from your FAFSA data, from the cost of attendance (COA) at Norwich. The COA includes the tuition and fees for the academic year 
as well as an allocation to cover cost of living expenses while enrolled. Below is an example of what a master's student may expect to pay based on our students' average indebtedness upon graduation from Norwich University:

Why is it important to file your FAFSA ASAP?
Did you know that practically everyone is able to receive some sort of aid? To find out what you are eligible to receive, you must complete the form online**. While you can apply for financial aid at any point in the admissions process, we encourage you to apply early to ensure all paperwork is complete before class starts if you are accepted into the program.
Two important reminders when completing the form as a graduate student:
You are considered independent and therefore not required to disclose your parents' income or signature 
Norwich University's school code is 003692.

What happens next?
Once your FAFSA information is approved, Norwich University will receive a Student Aid Report file that will disclose your EFC and will offer you student loan funds based on your eligibility. All students who complete a FAFSA successfully are eligible for the Unsubsidized Loan and the GradPLUS Loan regardless of their EFC. Before loan funds can be disbursed, you must have completed the application process and be officially accepted into the program. At this point, you will be asked to complete a master promissory note, entrance counseling, and an institutional application form to finalize the loan process.

Example Payment Plan
You borrowed $28,000 and you do not have any existing Unsubsidized Loans.
Repayment Summary 
Months in Repayment: 120  
Monthly Payment: $319  
Total Interest Payment: $10,323  
Total Loan Payment: $38,323 
*Please note: This is based on a Standard 10-year plan with an interest rate of 6.60%, which is subject to change. Payment plans will vary on a case-by- case basis.
**studentaid.gov/h/apply-for-aid/fafsa
Work for It
Employer Tuition Assistance
Here at Norwich University, we realize that many of the graduate students in our online programs are also working professionals. Does your employer offer a tuition reimbursement program? Check with your human resources representative. If your workplace does not offer any tuition reimbursement, now may be the perfect time to talk to your employer about becoming a Norwich University partner organization.
Professional And Trade Associations
As a working professional, you may want to check with various professional and trade associations in your field. Often, these associations offer scholarships and fellowships.

Research Fellowships
If you're pursuing a career where research is critically important, you could be eligible for funding from organizations in your field of study.

NU Alumni Scholarship
We are invested in the future of our alumni. That's why we offer a scholarship valued at $425 per term to any of our Norwich bachelor's degree graduates. The scholarship can apply to any of our College of Graduate and Continuing Studies master's degree programs.

Achievement Scholarships
Incoming students to selected Norwich master's programs who display a certain level of professional and academic achievement can apply for merit-based scholarships. Recipients are chosen by a Scholarship Selection Committee composed of Norwich University staff and faculty and can receive $4,200 toward their tuition.
 
To be eligible for tax benefits, you must file a federal income tax return—no exceptions. According to FAFSA, you could receive a $1,000 tax refund check even if you don't owe income tax.

Possible Tax Credits:
The American Opportunity Tax Credit – Up to $2,500 
The Lifetime Learning Tax Credit – Up to $2,000

In addition to claiming tax benefits, you can also deduct tuition expenses and the interest on your student loans from your taxes.

Do you have an IRA?
Most graduate students are working professionals who have already started saving for the future. If you have an IRA (individual retirement account), the government allows a penalty-free withdrawal from your IRA as long as the money is used for education.
To learn how education tax benefits can help make paying for graduate education at Norwich University even more affordable, visit StudentAid.gov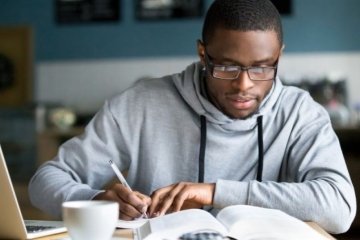 Contact your financial aid advisor today.
Still have questions?
If you have questions about the financial assistance available to you, contact our financial aid advisors at 1-877-348-8153 or via email at info@online.norwich.edu
If you are eligible for financial aid, you should apply for assistance as soon as possible.