Importance of Empathy in Nursing: 5 Patient Care Tips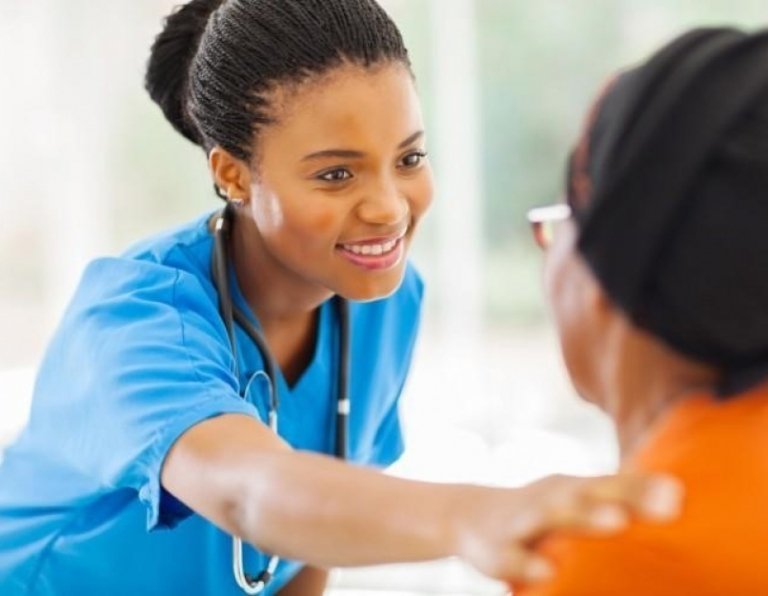 Patients often experience physical and emotional issues. The COVID-19 pandemic personifies these struggles, with health care professionals describing the challenges of patients who face a life-threatening condition but whose loved ones aren't permitted to visit them and provide comfort.
Nurses often are the reassuring presence that makes medical treatment more bearable to patients. Whether patients are confronting a serious condition such as the coronavirus or undergoing simple tests, a person-centered approach can improve outcomes. Empathy is a cornerstone of that approach.
Empathy's role in outstanding patient care makes it vital to the nurse-patient relationship. The positive effects of empathy in nursing are evident in a variety of health care settings from pediatricians' offices to intensive care units (ICUs). Nurses who want to become leaders in health care can consider pursuing  advanced education, such as a Master of Science in Nursing degree, to strengthen empathy and other essential skills for delivering high-quality care.
What Is Nurse Empathy?
Empathy is seeing, understanding, and sharing others' viewpoints without judgment. Nurse empathy requires nurses to put themselves in their patients' shoes, demonstrate that connection, and act on that understanding to enhance care.
Empathy has emotional, cognitive, and behavioral implications. Nurses who exhibit this trait assess social cues as well as vital signs to gauge treatment options. Empathy contributes to more effective outcomes for patients, according to a study in the Iranian Journal of Nursing and Midwifery Research.
Compassionate care in nursing can include the following forms of communication:
Verbal cues—focusing on what patients say and don't say.
Facial expressions—noting, for example, whether patients make eye contact.
Body language—sensing when patients seem tense.
Why Nurse Empathy Matters in Patient Care
Important in nurses' relationships with patients and their quality of care, empathy improves nurses' performance in the following areas:
Establishing respect.
Encouraging positive behavior and attitudes.
Making ethical decisions.
Gathering medical history information.
Accurately administering medicine.
A study in the journal Healthcare notes that nurses who show empathy have greater job satisfaction and experience less stress and burnout.
When receiving empathetic care, patients exhibit less anxiousness, improved self-concept, and lower levels of depression and hostility. Empathetic nurses better understand their patients' needs, putting the patients at ease to discuss their problems and concerns. Patients with health concerns ranging from diabetes to cancer have exhibited better outcomes from empathetic nursing care.
A lack of empathy in nurses negatively impacts patient care. Without empathy, patient treatment is less effective and can leave those receiving medical care feeling frustration, neglect, and confusion about their treatment.  

Nurse Empathy in Different Care Settings
Nurses often spend more time with patients than other medical care providers. Nurses who practice empathy in settings that range from psychiatric wards to outpatient facilities take advantage of that time to offer comfort and connect with patients.
Nurses who shared with the American Association of Critical-Care Nurses their own experiences as ICU and postpartum patients described empathy in nursing as frequent check-ins, comforting touches, and soothing words.  

Tips to Incorporate Empathy in Nursing
Nurses can use empathy to enhance patient care, improve job performance, and become advocates for good patient care. These five key tips can help nurses incorporate empathy in their work to benefit patients and themselves.   

1. Listen to Patients and Show Curiosity About Their Lives
Acknowledge patients' comments with nods and responses that indicate understanding. Ask how health concerns are affecting a patient's life, and then engage in active listening, ask follow-up questions, and show an interest in their lives beyond their role as patients. Respond to any patient concerns and then focus solely on that patient, avoiding multitasking. Patients who feel that nurses are listening open up more about symptoms, questions, and concerns, which leads to more effective care and higher satisfaction.  

2. Be Kind and Respectful
Be kind, providing top-quality assistance that supports a patient's condition. Disregard your personal biases and prejudices and, instead, work to ensure equal access to high-quality care for all.
Keep in mind that many patients are uncomfortable discussing sensitive health issues. Work to develop a level of comfort and trust that allows for open dialogue. When assisting a difficult patient, pause to remember the importance of caring to the high levels of the nursing profession.  

3. Develop Cultural Competence and Awareness
Understanding and respecting a patient's ethnicity, race, religion, sexual orientation, geographic background, and the social group can aid care, from acknowledging religious beliefs related to treatment to using preferred pronouns for transgender and gender diverse patients. By acknowledging a patient's beliefs, needs, and individuality, nurses can provide the most empathetic and effective care.
To develop cultural competence, seek information about different patient populations, expose yourself to new cultures and experience, and cultivate interactions with people of different backgrounds. Willingness to learn can help nurses bridge gaps and personalize care.  

4. Use Self-Care Strategies to Prevent Compassion Fatigue
Caring for others requires caring for oneself, whether that means talking with a friend, exercising, or spending time outside. In its tips for nurses coping with providing care during the COVID-19 pandemic, the American Nurses Association recommends these self-care strategies:
Breathe deeply.
Practice staying in the moment.
Engage in positive self-talk, focusing on the positive in a situation.
Read for a few minutes before beginning work from books that promote positive thinking.
Stay active.
Talk to someone.
5. Lead by Example
Exhibiting empathy in nursing helps others to establish the same practices, and that positive behavior extends beyond the confines of health care settings. Whether treating patients or interacting with others in the community, nurses can encourage positive behavior by displaying positive traits such as empathy. Employ emotional intelligence to show leadership that encourages positive behavior.   

How to Develop Knowledge and Skills for Effective Empathy
Nursing education can reinforce empathy skills. Norwich University's online Master of Science in Nursing program provides this training, helping nurses to become more empathetic health care leaders. The following core courses provide strong foundations for practicing empathy in nursing:
Advanced Physical Assessment—Examines the fundamental elements behind building a comprehensive assessment of patient health, such as patient histories and screening tools, highlighting the importance of physical exams and health history data analysis
Health Care Systems, Nursing Leadership, and Advanced Nursing Role—Provides insight into the concept of health care system analysis, discussing how it corresponds to effective patient care strategies
Health Policy, Advocacy, and Economics in Health Care—Discusses American health care delivery from a public policy, advocacy, and industry relations perspective, touching on how current issues and future trends may shape this delivery process
Quality Improvement and Patient Safety—Explores the relationship between quality improvement science and creating a safe health care environment for patients, highlighting the different approaches to addressing and overcoming quality improvement challenges
Take Nursing to the Next Level at Norwich University
Ready to strengthen your nursing and leadership skills? Norwich University's online Master of Science in Nursing program focuses on empathy and other important nursing practices for the 21st century. Norwich's MSN program offers concentrations in Healthcare Systems Leadership, Nursing Education, Nursing Informatics, and Nurse Practitioner. Three Nurse Practitioner track options are available: Family Nurse Practitioner, Adult Gerontology Acute Care Nurse Practitioner, and Psychiatric Mental Health Nurse Practitioner. The program also offers flexible options, including the opportunity to bundle the master's with a bachelor's such as the RN to Bachelor of Science in Nursing (BSN).
Explore how Norwich University's Master of Science in Nursing program can take your career to new heights.
Recommended Readings
Achieving Your Educational Goals: The Ultimate Guide to Getting the Most from a Master's Degree    
How to Prevent Nurse Burnout    
Nurse Leadership Qualities for Your Future Career
Sources:
ICU Nurse Talks How COVID-19 Has Changed Her Life, ABC News    
Nurses' Empathy in Different Wards: A Cross-Sectional Study, Iranian Journal of Nursing and Midwifery Research    
The Role of Empathy in Health and Social Care Professionals, Healthcare    
The Importance of Empathy in Nurses and Caregivers, Amplion Clinical Communications    
How Nurses Lead with Compassion in Health Care, U.S. News & World Report    
The Nurse as Patient, American Association of Critical-Care Nurses    
How to Show Empathy to Patients—Even When You're Stressed, Wolters Kluwer    
3 Things Every Nurse Should Do to Provide a Culture of Caring, Wolters Kluwer    
Cultural Respect, National Institutes of Health    
The Nurse's Role in Addressing Discrimination: Protecting and Promoting Inclusive Strategies in Practice Settings, Policy, and Advocacy, American Nurses Association    
"It Makes Such a Difference": An Examination of How LGBTQ Youth Talk About Personal Gender Pronouns, Journal of the American Association of Nurse Practitioners    
Six Tips for Nurses Coping With the COVID-19 Pandemic, American Nurses Association    
Inspire, Innovate, Influence: This Is How Nurses Lead, Healthcare Information and Management Systems Society