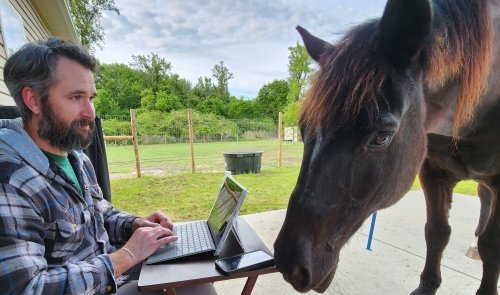 The professors at Norwich are incredibly passionate and professionals in their studies and want to communicate and help students throughout the programs.
Q: "Tell us about yourself." 
A: "I grew up in a small, one-stop-light town in southern Michigan with my mother and four brothers. After high school, I joined the Marine Corps infantry, where I spent the next 12 years of my early adult life traveling and fighting in different countries. The military brought out the explorer in me, and I began learning any skill that piqued my interest. After much trial and error and money spent, I enjoy scuba diving, rock climbing, horseback riding, and long rides on the motorcycle."
Q: "Please describe briefly your professional experience and current employment." 
A: "My professional career dates back to 2010, when I signed enlistment papers for the United States Marine Corps. I volunteered to join the Marine Corps infantry as a machine gunner. I spent many months in Afghanistan before returning home and trying out for the Marine Special Operations Command (MARSOC). Fortunately, I was selected to attend the grueling training pipeline to become a special operator. Once on a MARSOC team, I was sent to various communication courses to assist my team on deployments; these courses piqued my interest in cybersecurity. Fast forward to 2017, I started my Bachelor of Science in cybersecurity at Norwich University. At the end of 2022, I graduated from Norwich University, honorably departed the military, and started my new career as a vulnerability analyst."
Q: "What was your motivation for pursuing your degree?" 
A: "I have always enjoyed dynamic and challenging environments that evolve and keep you engaged. Cybersecurity fits this description and brings a sense of purpose and accomplishment because you protect critical systems and applications that people and organizations count on for productivity and innovation."
Q: "What are your future professional plans?" 
A: "My professional plans involve finishing my master's program at Norwich University and continuing my education pursuit into a cybersecurity doctorate program. At the same time, continue to grow in cybersecurity and, one day, get a seat at the table of an organization's cybersecurity executives."
Q: "Why did you choose Norwich?" 
A: "I chose Norwich University because the school was military friendly, flexible, and willing to work with individuals with irregular schedules. Also, Norwich provides higher levels of education in cybersecurity so that I can continue my studies from an undergraduate to a graduate program."
Q: "Did you have any uncertainties with choosing an online program?" 
A: "Unfortunately, I had no choice in pursuing a traditional on-campus degree or an online one because of my irregular military schedule at the time. However, I was concerned with how much time I would need to dedicate to an online undergraduate program and whether I could accomplish the monumental task. Norwich University was phenomenal in understanding my schedule and assisting me throughout my studies to achieve my education goals."
Q: "Prior to beginning your courses, what were some of your expectations for an online degree program?"  
A: "The expectations for an online degree program were met and exceeded with Norwich. Initially, I thought the classes would be hands-off, being an online degree program, but it was different. The professors at Norwich are incredibly passionate and professionals in their studies and want to communicate and help students throughout the programs. There was no point in time when I could not reach out and get a timely response from any of the professors or faculty members at Norwich University."
Q: "What advice would you give future students enrolling in one of Norwich's online programs?" 
A: "You are the product of your own success with online programs; the more you put into the program, the more you get out of it."
Q: "How do you plan to use your degree in your career?" 
A: "My degree will be leveraged as a testament to my dedication to cybersecurity and pursuing education to find a management position in a valued organization."
Q: "What has been your biggest personal or professional success since starting your degree?" 
A: "My most significant professional success was finding a position within my field of study at a notable organization. Norwich helped provide me with the foundational and advanced knowledge to make a difference in the organization, directly impacting my performance and future promotions."
Q: "Please tell us about a time you could put your knowledge gained in the classroom to work immediately at your job." 
A: "I work as a vulnerability analyst on the Marine Corps Enterprise Network (MCEN). On one occasion, I was tasked with writing standard operating procedures for our cybersecurity compliance section. Understanding the importance and impacts of the policies, I referenced previous notes from my courses to guide me in developing holistic methods for management and coworkers."
Q: "What aspects of your Norwich experience will you carry most strongly with you?" 
A: "Brotherhood, belonging, community, camaraderie, and the list could go on. Norwich has provided more essential aspects than I can name. The university truly embodies an unconquerable spirit of the pursuit of education."
Q: "Is there anything else you would like to tell us about your experiences at Norwich?" 
A: "Norwich will forever be a part of my legacy and family. I appreciate everything the staff and professors have done and will continue to do for myself and future students. We are lucky to have such an outstanding university that cares deeply about education and history."