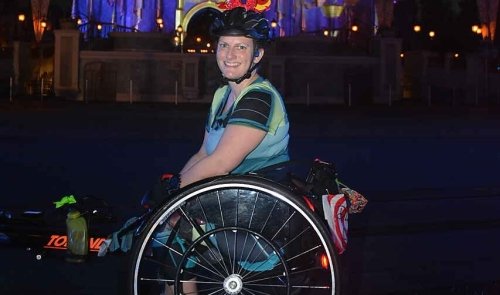 The Norwich Honor Code has always strongly influenced me, particularly the concept of integrity and doing the right thing even when no one is looking. That strongly carries into my work and how I interact with my patients.
Q: "Tell us about yourself: your family, friends, interests/hobbies, and professional experience."
A: "I am a 2007 BSN graduate of Norwich University. I served 12 years in the Air Force after graduation in Ohio, Germany, Alaska, and Illinois. I became very involved in the ice hockey, running, and adaptive sports communities completing over 50 half and full marathons. I also love to ski and sew. In 2019 I transitioned out of the Air Force and started competing in races in the push rim wheelchair division.
In the Air Force I served as a medical surgical nurse, charge nurse, flight nurse and flight nurse instructor, pediatric nurse, clinic nurse manager, inpatient unit assistant manager, and finally in a staff position for the Air Mobility Command Surgeon. After separating, I began working for the VA as an ER nurse before specializing in Urology. I am pursuing a position in the education department."
Q: "What was your motivation for pursuing your degree?"
A: "I have dreamed of teaching at Norwich since I graduated in 2007. I always had that as my retirement plan and then fell in love with teaching as a flight nurse instructor. I am in the VA Vocational Rehabilitation program, which assists in pursuing a master's in nursing so I can transition from the bedside to a teaching role."
Q: "Why did you choose Norwich?"
A: "I chose Norwich because of my undergraduate experience. I learned about Norwich when I attended Springfield College, and we competed against Norwich in some sports. I like Norwich's close ties and support of the military and their fantastic support for GI Bill students. I like that the program is all online as it has allowed me to continue to work full time while pursuing my degree."
Q: "What was the deciding factor in pursuing an online degree?"
A: "My work schedule does not support attending classes regularly. I have often completed assignments at odd hours of the night and on weekends depending on my shift schedule at the time. My professors have been extremely supportive despite the geographic separation."
Q: "What has been your biggest personal or professional success since starting your degree?"
A: "Being inducted to both the Sigma Honor Society for nurses and Salute Veteran's Honor Society is a big achievement, and I am glad Norwich offers connections and opportunities for both."
Q: "Please tell us about a time in which you could put your knowledge gained in the classroom to work immediately at your job."
A: "When we were looking at process improvements, I was working in the ER and had some concerns about our process for patients identified as having suicidal ideation. I was able to take the processes we were learning in the classroom and apply them to my work environment to help ensure the safety of our Veterans."
Q: "What aspects of your Norwich experience will you carry most strongly with you?"
A: "The Norwich Honor Code has always strongly influenced me, particularly the concept of integrity and doing the right thing even when no one is looking. That strongly carries into my work and how I interact with my patients."