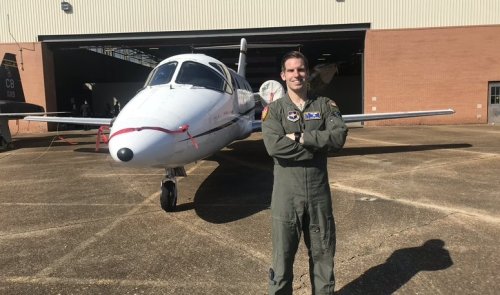 By gaining my degree from Norwich, I was able to commission in the Air Force and become a pilot.
Q: "Tell us about yourself."
A: "I am KC-135 pilot in the Air Force that was previously an enlisted Combat Controller in the Air Force. I have been on active duty for almost 14 years now. Also, I have been a Combat Controller, so I have seen special operations of the military during my career. I have a wife and a baby boy. I enjoy playing hockey, working out, skydiving, and general aviation. "
Q: "What was your motivation for pursuing your degree?"
A: "I wanted to broaden my personal and professional knowledge. In the future, I want to fly for the airlines or possibly move to another government agency once I am done with the military."
Q: "Why did you choose Norwich?"
A: "I chose Norwich due to its military history and outstanding reputation. My friend on deployment was in the strategic studies and defense analysis program, and I discussed his curriculum with him. All the classes piqued my interest, and I enjoyed the program so much that I continued into the strategic studies master's program."
Q: "Prior to beginning your courses, what were some of your expectations for an online degree program?"
A: "I was worried that the courses would be difficult to follow and that I would not have all the materials for the course. But Norwich and the instructors ensured I had all the proper material for the course, and the course layouts were easy to follow and learn from!"
Q: "What advice would you give future students enrolling in one of Norwich's online programs?"
A: "Take the plunge. You will be pleased with the product you receive and the information you learn!"
Q: "What has been your biggest personal or professional success since starting your degree?"
A: "By gaining my bachelor's degree from Norwich, I was able to commission in the Air Force and become a pilot."
Q: "Please tell us about a time you could put your knowledge gained in the classroom to work immediately at your job."
A: "During deployments, I utilized my knowledge from the degree on understanding what influences the adversary and how our government is trying to counter and convince them."
Q: "What aspects of your Norwich experience will you carry most strongly with you?"
A: "I had a great experience with Norwich and was greatly challenged throughout the courses. Yet, I never had a moment where I felt like the staff and faculty did not support me. The appreciation for the US military, the honor, and distinction that the university has as well." 
Note: The appearance of U.S. Department of Defense (DoD) visual information does not imply or constitute DoD endorsement.