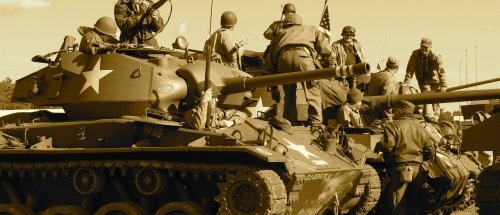 Military History
No prerequisites. No application. Register online.
In honor of Norwich's deep military roots (200 years' worth), we are especially proud to offer this certificate in military history, which is designed to provide history hobbyists, as well as teachers of history, a renewed and enriched understanding of the subjects they study and teach. The program guides students through significant eras and laws in American and world history through courses that challenge them to survey fascinating historical contexts in unique and varied ways, according to diverse interpretations. All course materials provided.
Learning Format
Designed with built-in flexibility for working adults and done the Norwich way with special emphasis on quality, innovation, and challenge, these courses can work into a busy schedule and fit in around work and family. There are deadlines at the end of each week, but you choose when to get the work done. All that's needed is an internet connection, so you can take our courses from almost anywhere in the world.

Who Should Register
History buffs or anyone excited to dive deep into the details of a specific historical events. Teachers of history, government, social studies, or politics to enhance knowledge and earn professional development hours and CEUs for annual teaching license renewal.

What You'll Need To Succeed
Devote 6-8 hours per week and spread your hours evenly throughout the week. Ensure that you can apply your lessons to your real-life experiences and do the extra assignments when you can. Be prepared to work in groups remotely.
These noncredit, instructor-led courses can be taken as part of the certificate or individually.
Complete the courses below to earn the certificate:
MH310: Understanding D-Day - May 20, 2024
MH330: Exorcising Hitler's Ghost: The Holocaust, Denial, And The Importance Of History - July 1, 2024
MH340: Cold War 2.0: Small Wars Today - Sept. 2, 2024
MH350: Cold War 2.0: A Brief History - Oct. 7, 2024
MH360: Cold War 2.0: Current Analysis - Nov. 11, 2024