How to Become an Intelligence Analyst: Skills Required and Salary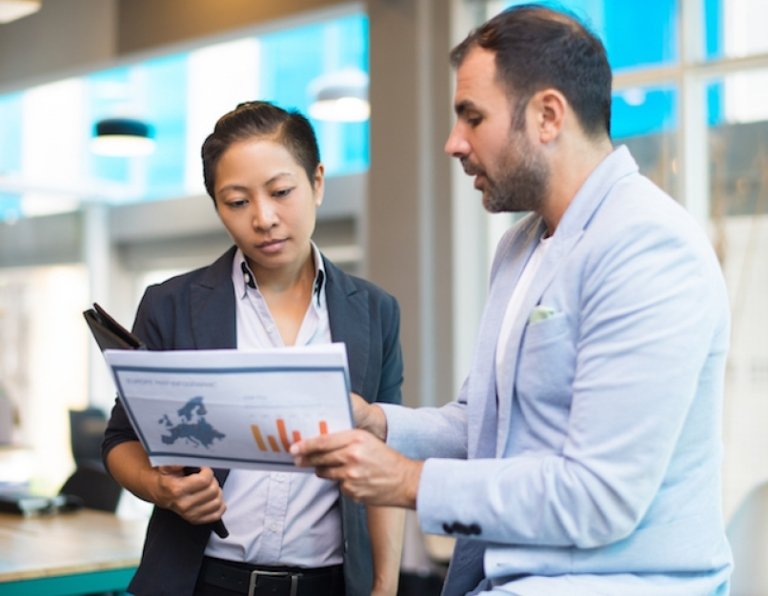 The job title of "intelligence analyst" might conjure images of FBI and CIA agents. While potential career paths for prospective analysts do include these employers, the field as a whole is much larger than that. The intelligence analysis arena spans many career opportunities in different government branches, such as the U.S. Army, and information technology companies, such as Booz, Allen, and Hamilton. It requires intense training and educational preparation to pursue this profession.
"This process is like starting a fitness regimen for the brain," writes Sarah Miller Beebe in the preface to her book, Cases in Intelligence Analysis: Structured Analytic Techniques in Action. "At the beginning, your muscles burn a little. But over time and with repetition, you become stronger, and the improvements you see in yourself can be remarkable. Becoming a better thinker, just like becoming a better athlete, requires practice."
Students who are interested in how to become an intelligence analyst can consider earning an online Master's in International Relations (MAIR) degree. This article serves as a guide to what the role of an intelligence analyst entails and what steps are needed to pursue the job, as well as the career outlook and salary.
What Does an Intelligence Analyst Do?
Intelligence analysts evaluate information and data to identify and mitigate security threats. Sources of information include but are not limited to internal and external statistics, databases, and field reports. Analysts must have strong research, comprehension, and analytical skills to synthesize information and create action plans.
When asked to describe her role, FBI Intelligence Analyst, Ashley Evans, said: "My typical day-to-day job as an analyst involves a lot of research and reading. I spend a lot of my time reading the information that the special agents on my squad have collected and then doing more research about it if there are any gaps or any information was missing. I try and fill that in with information from other intelligence community sources or government agencies or the public sector."
Intelligence analysts play a key role in international relations and national security. They work with a network of local, state, and international organizations in the law enforcement and intelligence communities to share information and collaborate on strategies to mitigate threats. As such, they should have a firm understanding of the history and structure of the intelligence community, as well as the relationship between intelligence agencies and senior policymakers in government.
At an information technology or consulting firm, the focus of intelligence analysts is usually more business oriented. They may be responsible for assessing risks to the organization's safety, such as travel risks and cyber attacks. They use data from various sources, such as internal databases and even social media sites, to identify threats to the company and propose strategies for addressing those threats.

What Are the Steps for Becoming an Intelligence Analyst?
Key steps for students who are interested in how to become an intelligence analyst include the following.

Step 1: Earn a Degree
Intelligence analysts are typically required to have a bachelor's degree in a related field. They may also hold an advanced degree to pursue higher-level job opportunities. A Master of Arts in International Relations (MAIR) program, for example, can help prospective intelligence analysts complete this advanced educational requirement.
The program offers a range of relevant concentrations, such as International Security and International Development. With the MAIR degree, students can develop the skills to thoroughly understand various socioeconomic, cultural, and diplomacy issues around the globe.

Step 2: Gain Experience
In addition to education, current and prospective intelligence analysts must have relevant work experience. For example, they might hold jobs in related government agencies or information technology companies. They also may acquire field training to complement their education and experience as an intelligence analyst.

Intelligence Analyst Skills
An individual interested in how to become an intelligence analyst should develop the following skills while earning their degree and gaining hands-on experience in the field.

Problem Solving
Intelligence analysts should have strong problem-solving abilities. They should be able to identify complex issues and gather information about the topic. They should also be able to address implications regarding new versus current and recurring issues. Assessing and analyzing information to determine potential solutions is the most important aspect of the problem-solving skill.

Communication
It is important for intelligence analysts to have well developed and nuanced verbal and written communication skills. Having a firm understanding of international relations, politics, and economics—and being able to communicate with others about these topics—is an essential aspect of the job. These skills aren't required simply for building career success; they may help save lives and contribute to global strategy development.

Research and Writing
It is essential for intelligence analysts to have excellent research skills as well as report-writing skills. As it states on the FBI jobs website, "From assessing, collecting, and disseminating raw intelligence to making real-time analytic judgments regarding specific and emerging threats, to conducting studies to identify threats and trends, intelligence analysts are critical to the FBI's ability to act proactively against evolving threats."

Decision Making
Intelligence analysts must be self-starters who work well under pressure, as tasks might include making real-time decisions that involve international crises and crimes. They need to be able to look through  large volumes of information and data, such as statistics and reports, and analyze and use that information to make decisions. An aspect of this consists of knowing how to use analytic tools and access databases.

Flexibility
Intelligence analysts should be flexible when it comes to their schedules, as their jobs often require them to travel. They can work in an office as well conduct investigations in the field, and in local or international environments.
Salary and Job Outlook of Intelligence Analysts
The median annual salary of an intelligence analyst is around $70,500, according to the compensation website PayScale. At the higher end of the pay range, salaries can exceed $105,000. These greater salaries come with increased experience, education, and skills in areas such as signals intelligence (SIGINT), human intelligence (HUMINT), geospatial intelligence (GEOINT), and geographic information systems (GIS).
The employment outlook is positive for intelligence analysts. Forbes listed "intelligence relations" in 2019 as one of the college majors with the highest salaries and best career prospects. The U.S. Bureau of Labor Statistics (BLS) reports that military careers—such as that of the intelligence analyst—should see increased job opportunities through 2028.

Begin Your Career as an Intelligence Analyst
Norwich University's online Master of Arts in International Relations program helps students refine the skills for success as an intelligence analyst. The program comprehensively studies the internal workings of international players in the intelligence landscape, examines the role of state and non-state actors on the global stage, and explores different world views. Students can further refine their knowledge through one of five concentrations: International Security, National Security, International Development, Cyber Diplomacy, or Regions of the World.
As the nation's oldest private military college, Norwich University has been a leader in providing innovative education since 1819. Through its online programs, the university delivers relevant and applicable curricula that empower students to make a positive impact on their places of work and their communities.
Learn more today about how to become an intelligence analyst by earning an online Master of Arts in International Relations degree from Norwich University.
Recommended Readings
Essential Skills for a Career in International Relations
Becoming a Global Leader: 6 International Relations Careers
What Is International Relations in the Digital Age?
Sources:
Cases in Intelligence Analysis: Structured Analytic Techniques in Action, Google Books
There's more than the CIA and FBI: The 17 agencies that make up the U.S. intelligence community, Los Angeles Times
Intelligence Analysts, FBI Jobs
Intelligence Analyst, Intel.gov
Average Intelligence Analyst Salary, PayScale
The College Majors With The Highest Salaries—And The Best Prospects, Forbes
Military Careers, U.S. Bureau of Labor Services