Vladamir Kara-Murza: A Moral Compass
On May 21, a constellation of international classical music stars came together to play at Carnegie Hall. These luminaries included the pianists Evgeny Kissin and Lera Auerbach; the Emerson String Quartet; and cellist Steven Isserlis, with violinists Maxim Vengerov and Gidon Kremer. Nearly three hours of great music-making from these ten musicians, performing works by six composers, were followed by a gorgeous gala dinner in the spacious Rohatyn banquet room in the Hall.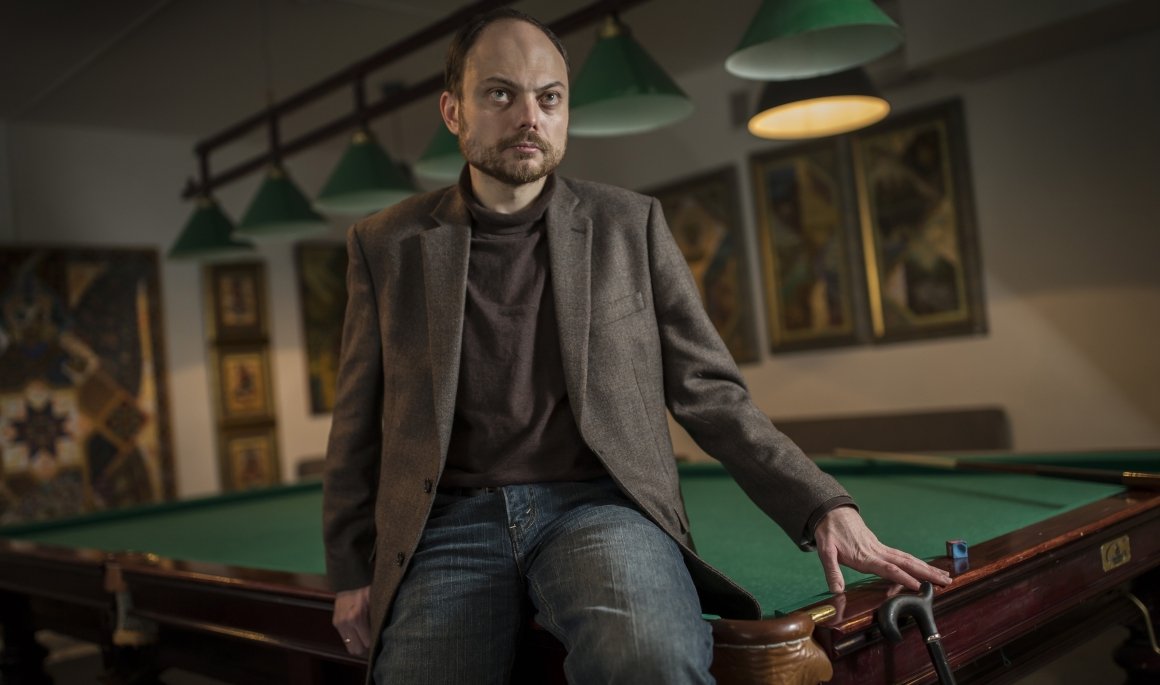 The gathering was honored with the presence of legends from the Soviet dissident world, such as Natan Sharansky. Also in attendance were well-known representatives of the Russian business elite, who have relocated from Russia to the West mainly for political reasons. These included Boris Zimin and Mr. and Mrs. Tsukanov.
What united all these disparate people was a remarkable anniversary: the centenary of the great Soviet physicist, 1975 Nobel Peace Prize laureate, outspoken dissident and human rights activist Dr. Andrei Sakharov.
In his epic struggle with the Soviet dictatorship from the 1960s into the 1980s, Sakharov asserted: "Intellectual freedom is essential – freedom to obtain and distribute information, freedom for open-minded and unfearing debate and freedom from pressure by officialdom and prejudices. Such freedom of thought is the only guarantee against an infection of people by mass myths, which, in the hands of treacherous hypocrites and demagogues, can be transformed into bloody dictatorship." In 1984 he wrote a letter describing the punitive "medical treatment" he received during an involuntary hospitalization: "[On] May 11 … one of the hospital aides sat on my legs while some substance was injected with a small syringe. I passed out and involuntarily urinated. When I came to, the orderlies had left my bedside. Their bodies seemed strangely distorted as on a television screen affected by strong interference." Yet nothing shook Sakharov's resolve to continue pressuring the government for the personal liberties and sharing of knowledge that he deemed essential to the "peaceful co-existence of nations."
"Sakharov was my hero for as long as I can remember," Evgeny Kissin said in his welcoming remarks at Carnegie Hall nearly forty years later. Kissin recalled how, in 2020, with the scientist's 100th birth anniversary approaching, he began organizing a tribute concert in collaboration with Marina Sakharova-Liberman, granddaughter of Andrei Sakharov and Vice-President of the Andrei Sakharov Foundation (ASF). (The pandemic intervened, however, and the celebration had to be deferred until 2023.)
At the speaker's podium last week, Kissin was followed by famed Soviet dissident Natan Sharansky, who described his "unforgettable period of work as a translator and assistant" for Sakharov, and how the KGB, then headed by Yury Andropov, accused Sharansky of spying for the Americans and detained him briefly in the infamous Moscow prison of Lefortovo. From there, Sharansky was transferred for nine years to "Perm-35" – a labor camp in the north Ural Mountains, infamous since Stalin's GULAG period. Sharansky later wrote: "Over the years, I have come to understand a critical difference between the world of fear and the world of freedom. In the former, the primary challenge is finding the strength to confront evil. In the latter, the primary challenge is finding the moral clarity to see evil."
I covered this concert and the gala as a photographer on invitation by the Sakharov foundation and could see that there were plenty of other human-rights campaigners in the audience (some of them traveling from Berlin, Paris, London and Israel for the event).
It was surely no coincidence that Pulitzer-winning New Yorker editor David Remnik named in his speech some of the most legendary Soviet dissidents and then continued by reading a list of the "prisoners of conscience" of Putin's regime. After referring to Alexey Navalny, the best-known opponent of Putin, another name was uttered: Vladimir Kara-Murza, a Russian opposition activist who was recently sentenced to 25 years in prison on charges of treason. In reality, these ridiculous accusations were invented because of Kara-Murza's criticism of Putin's war against Ukraine. "To continue the war, one needs to gag thousands and carry out repressions," said his wife, Evgeniya Kara-Murza. "My husband said once that internal repressions and external aggression are two sides of the same coin."
I have known Kara-Murza since 2016. He had just returned to Russia from treatment in the U.S. for a notorious poisoning to which he had been subjected (the first of two). I was on assignment for The Telegraph (of U.K.) to take his portrait. We have been kept in touch ever since. Kara-Murza was poisoned twice, each time in Moscow, in 2015 and 2017. After both poisonings he was left in a coma, but each time was saved by doctors. In 2021, a media investigation by Bellingcat and The Insider identified the Russian FSB officers who were behind the poisonings in Moscow, utilizing a nerve agent, in the same manner that Navalny was poisoned in Omsk. (One wonders what was in that small syringe that pierced Sakharov's vein.)
Kara-Murza is a Russian politician, a longtime colleague of opposition leader Boris Nemtsov, who was shot dead in February 2015 beside the Kremlin. Kara-Murza holds dual citizenships (Russian and British) and was educated in history at Cambridge University. He served as a key coordinator and a vice-chairman of Open Russia, an NGO founded by former Russian oil tycoon Mikhail Khodorkovsky, which promoted civil society and democracy in his home country. (Khodorovsky has now been banned from Russia after spending 9 years behind bars.) It was Kara-Murza who played a key negotiator role in the adoption of the Magnitsky Sanctions imposed on Russian human-rights violators in the U.S., European Union, the U.K., and Canada.
Kara-Murza has long been an outspoken critic of Russian President Vladimir Putin. He accused Russia of war crimes in Ukraine in a speech to the Arizona House of Representatives. Less than a month before he was arrested, Kara-Murza publicly called the Russian government "a regime of murderers."
Two months after Putin invaded Ukraine, Kara-Murza was detained in Moscow on a charge of "disobeying the police," and later the Russian court charged him with spreading what it considers "false information about the Russian army activities in Ukraine." The same court one year later sentenced Kara-Murza to 25 years in prison on charges of "high treason." In fact, this is simply revenge by the regime for his role in developing the Magnitsky Sanctions, for his alliance with Mikhail Khodorkovsky, and for speaking out against the war on Ukraine.
On April 17 in his last statement to the Russian court, Kara-Murza made a point that his friends and associates have been "attacked, jailed and killed," describing his imprisonment as a "badge of honor." He denounced the charges, saying in part: "I'm in jail for my political views. For speaking out against the war in Ukraine. For many years of struggle against Vladimir Putin's dictatorship… Not only do I not repent of any of this, I am proud of it… I subscribe to every word that I have spoken and every word of which I have been accused by this court... I blame myself for only one thing: that over the years of my political activity I have not managed to convince enough of my compatriots and enough politicians in the democratic countries of the danger that the current regime in the Kremlin poses for Russia and for the world. Today this is obvious to everyone, but at a terrible price — the price of war… But I also know that the day will come when… black will be called black and white will be called white; when a war will be called a war, and a usurper a usurper; and when those who kindled and unleashed this war, rather than those who tried to stop it, will be recognized as criminals… And then our society will open its eyes and be horrified by what terrible crimes were committed on its behalf… Even today, even in the darkness surrounding us, even sitting in this cage, I love my country and believe in our people. I believe that we can walk this path."
Long before the sham trial's verdict I sent a letter to Kara-Murza without hope of a response. However, I did receive one. He responded from his prison, Detention Facility "Vodnik-5," north of Moscow (coincidentally, located not that far from my actual Moscow address). He recalled the January 2016 photo shoot and the picture taken by the green pool-table in a club at Pokrovka street where we met. Among other things he wrote the following: "I am a professional historian and I require the presence of a different optics when observing the world – but I am absolutely convinced that in the quite foreseeable future the darkness over Russia will dissipate and then – long, exhausting but very important work on the building of a normal, modern, democratic country here would begin. Many have walked this path – from Germany after 1945 and Latin American countries after military dictatorships, to South Africa after apartheid and Central Europe after communism's fall – and there is no reason why we cannot repeat this. There are many good and very understanding people in Russia – I know this from my numerous trips across Russia, and even now, in prison, I continue to come across them. Learning a lesson from the 90s is crucial. Avoiding repetition of that mistake on the next historic turn is essential. Open all archives. Condemn the crimes of the former regime at the national, governmental level. Dismantle those structures which committed the crimes – especially the Lubyanka -- and bring those responsible to justice. If evil is not realized and analyzed, and condemned, and punished, it will come back – this mistake cannot be repeated…"
Evgeniya Kara-Murza, holder of an American passport, resides in Virginia with three of their children. Recently she gave an interview to prominent Russian documentary maker Katerina Gordeyeva and said: "Right now Russia is 'another planet,' different from the rest of the world's country with the full range of Soviet repressive practices. It is a country where authorities bully their own citizens and wage wars of aggression against neighbors. For as long as Putin is in power, Russia will be dangerous for itself and for the rest of the world. The Western countries should stop "giving another chance" to Putin. No more "recharge of relationships"! This criminal regime must lose entirely."
As Sharansky wrote decades ago: "In dictatorships you need courage to fight evil; in the free world you need courage to see evil." When the invasion of Ukraine results in a huge failure and triggers a political crisis across Russia, the largest country on the planet will be threatened by fragmentation and political chaos. This will be a new threat to the stability of Europe and the world. The question of succession will arise, and the voices of reason from people like Kara-Murza will need to be heard. They will bring the opposition together, denounce corruption and defend the law. They are the ones capable of leading the post-Putin Russia of tomorrow. Their unfailing courage is an example to all of us.
In his letter from prison Vladimir Kara-Murza wrote me: "There is no heroism, nor sacrifice, in the fact that I did not leave Russia after either the poisonings, nor after the beginning of the war. It could not be otherwise. Journalists, human rights activists, and representatives of culture may (and should) speak from anywhere. But a politician may remain a politician only in the frame of his own country. This is a unique sphere in our time, in which working remotely doesn't roll. For me it is simply a question of ethics…"
People like Vladimir Kara-Murza are rare and indispensable as they carry forward the self-same torch that burned the fingers of so many other brave individuals like Sakharov, Sharansky or ASF Director Pavel Litvinov, who said "The main thing all autocratic governments hate is light; so light, illumination is the main thing. They (the autocrats) are like cockroaches, cockroaches stay in the dark, they are hiding from the light."
Putin must not be allowed to let the oppositionists die in jail. They are the ones who will keep Russia safe. We in the West must maintain our moral clarity, see evil and distinguish it from good, and not desert these heroic prisoners. Putin must be made to face the fact that the life of Vladimir Kara-Murza is precious – for the future of Russia, for the future of Europe, and for the future of freedom.
About the Author
Dmitri Beliakov, born in Russia in 1970, is an award-winning photojournalist. In his 28-year career he has covered seven conflicts, including the First and the Second Chechen Wars, the Russian-Georgian conflict of 2008, the war in Syria, and the war in the Donbass area. Among his many professional awards are: the OPC Borovik Award in 2005; First Place in the NPPA Portrait Series Awards in 2010; First Place in the POY Print Feature Story Editing/ Magazine in 2015; and the Amnesty UK Media/Photojournalism Award in 2019. His detailed profile can be found at his personal websites: http://www.dmitribeliakov.com; https://armenianjournal.com/