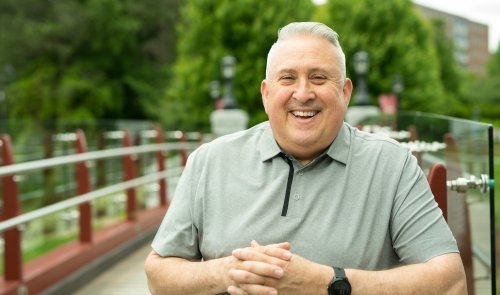 In working with great people, I found a home at Norwich from my master's degree.
Q: "Tell us about yourself: your family, friends, and interests/ hobbies."
A: "I am a 28-year veteran of the Woonsocket, R.I. Police Department, where I oversee the Uniform Division consisting of Patrol, Traffic, Telecommunications, and Animal Control. I currently hold the rank of Captain. I joined the Woonsocket Police Department (WPD) after serving four year in the U.S. Airforce. I am married to my lovely wife Jessica, and we have two adult children: Todd Jr. who is a High School teacher, and Jack who is serving in the U.S. Navy."
Please note: Todd Boisvert was appointed Chief of Police in Searsport, Maine, Nov. 2019.
Q: "Please describe, briefly, your professional experience and current employment."
A: "I have served in all three Division of the W.P.D. Uniform, Operations, and Detectives in various capacities, such as Patrol Officer, Community Police Officer, and School Resource Officer, Executive Officer, Officer-In-Charge, and now Uniform Commander within the Patrol Division. Internal Affairs Officer, SWAT Commander, and Operations Commander within the Operations Division Prosecution Sergeant within the Detective Bureau. I have an Associates Degree from Roger Williams University, a bachelor's degree from New England Institute of Technology, and I am a graduate of the prestigious Federal Bureau of Investigations (FBI) National Academy (FBINA)."
Q: "What was your motivation for pursuing your degree?"
A: "Law enforcement has been a challenging yet rewarding career for me. Having reached the point in my career where I believe that I am ready to take the next step in advancement, it was important for me to further my education to be competitive in todays law enforcement job opportunities at a higher level. I have always believed that as leaders we should never stop learning to put ourselves in the best position possible, so that one can mold the people around them and leave the place better than we found it."
Q: "Why did you choose Norwich, how did you learn about the university? What makes Norwich unique? What made Norwich's program stand out?"
A: "In 2017-2018 my youngest son, Jack, attended Norwich University and completed his "Rook-Year" within the Corp of Cadets. This opened my eyes to Norwich, as he had a wonderful experience and loved Norwich. I was looking for something different, opposed to the traditional graduate degrees that most Rhode Island Law Enforcement Officers pursue at local colleges. Norwich caught my eye and I began looking into the possibility of becoming a Norwich graduate. In working with great people, I found a home at Norwich for my master's degree."
Q: "Did you have any uncertainties with choosing an online program? If applicable, what was the deciding factor in pursuing an online degree versus a traditional on-campus degree?"
A: "I did have some uncertainties with choosing an online program over a traditional program. Being a little older, I felt that I needed that personal contact within a classroom setting, but I was assured by Norwich staff that once I got going I would quickly become comfortable, which I did. With technology today, none of my questions or concerns went unanswered within a short period.
The deciding factor in choosing an online degree was the reassurance provided by Norwich staff, as well as the convenience of setting my own pace during the week."
Q: "How have you grown personally or professionally since completing your coursework and degree?"
A: "I think Norwich has given me a different perspective on my role as a leader within the law enforcement field. My leadership style has always been that I try to get things accomplished through people because they want to get the work done for the betterment of the department, Norwich simply reaffirmed this for me."