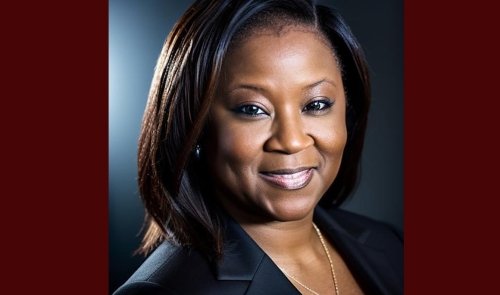 What made Norwich stand out was that when I looked through the information, it wasn't just structured as a checklist of academic requirements, there was really a sense of family.
Norwich University is renowned for its creation of leaders and deep roots in the fabric of the American military as the founders of the Reserve Officers' Training Corps. Though the student population heavily reflects that, leaders from all fields and backgrounds seek out Norwich degrees. One of those is Michele Turner '12, who earned her Master of Science in Business Continuity. Today, Turner is the vice president of business continuity for Marriott International as well as a course instructor and board director for Disaster Recovery Institute International (DRII), where she was the 2022 DRII Lifetime Achievement Award winner.

Building Resiliency and Bouncing Forward
Turner began her foray into business recovery in 1993 when she filled in for a colleague who was on maternity leave. Eventually, the post became hers permanently when her colleague never returned. "They said you don't have to do much, just go through everything and check off when you receive items and color coordinate them, but I'm nosey and read the stuff," said Turner. During her time filling in, she thought there must be a better way to go about the process. "They told me, 'Since you have so much to say, why don't you take over this area?'" Since then, she's become a pioneer in the field.

"Not a lot of people at that time really wanted you to come in to do business recovery; they didn't really know what that was," said Turner about her experiences following the expansion of her new role. "What they did know was that they wanted you to fix their systems." She learned about and gained competencies in systems configuration, mainframes, and a host of other technical areas because she saw that employers wanted someone familiar with the technical side. "That was my way of getting into business continuity and it just grew from there."

Turner's career has led her down many paths, but she has spent the past three decades in the areas of governance, risk, and compliance. Prior to her role with Marriott, she worked as a consultant, spent time with Washington Mutual, worked a decade at Microsoft where she founded its Operational Risk Organization, and eventually landed at Amazon where she developed their global business resilience as the head of global business resiliency. "I had all four regions and built out my team; it was a great time doing continuity, crisis management, and workplace resiliency."

Now at Marriott International, she "Has the opportunity to be at the executive level and build this out." Teams under her watch include the Global Emergency Response for Marriott properties, Business Continuity Product Management, and Business Continuity Risk Mitigation.

Building Credentials Through Education
"I decided that since I've been doing this business continuity thing for decades, why don't I get credit more on the educational level?" She began scouring institutions for master's programs surrounding business continuity. "I found a couple, but what made Norwich stand out was that when I looked through the information, it wasn't just structured as a checklist of academic requirements, there was really a sense of family. A sense of 'We will do this together,'" she said. "The sense of family and support was overwhelming, and I thought, 'If I'm going to get it, I'm going to get it here.'"

Although Norwich has made a name for itself in the military sphere, civilian students like Turner are able to find their home at Norwich. "It was a great experience," she said. "My thoughts of the family atmosphere really came to light when we had our cohorts. When we were responding to questions, really digging in and having conversations with each other even if we didn't necessarily agree on a certain point, there was that respect where we were learning from each other and learning a different way of doing things."

Luckily, the sense of camaraderie and family outlasted the classroom. "A lot of people in my cohort are still my friends today, and not just LinkedIn friends, but when I see them at conferences we spend time together, and when we have questions, we reach out to each other."

"My goal is to continue offering that additional expertise, looking around corners, looking for emerging risks," said Turner. "As I take a look at my degree, even though I had been in the field around 20 years at the time I enrolled, I still learned different ways of approaching things that helped me in my Amazon life, that helped me at the end of my Microsoft life, all of which I've carried on."

Turner is a driven lifelong learner who is even tossing around the idea of earning a second master's degree. "As I look at the potential of getting a master's in cybersecurity, I can see how I could bring that to bear. Threat actors are all over the place doing all types of things across all industries, including hospitality," she said. "I want to make sure I can potentially fill all of these gaps."

Opening Doors, Lowering Ladders
Turner has spent much of her life implementing improvements to the companies she has worked with. Many of these improvements, according to Turner, can be applied to various fields and life situations. Her book, "Lessons Learned: Short Stories of Continuity and Resilience," is a culmination of years of experience and learning put to print.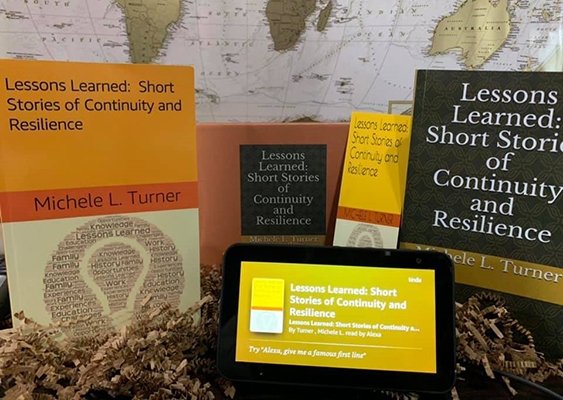 "It took me decades to get this book out. I would start, then stop and think, do I really want to do this?" said Turner. "Then COVID hit, and I was the busiest that I have been. I thought, 'There is going to be no good time, so if you're going to do it, just do it.'" Sometimes, it can feel like you are the only one dealing with a certain problem, and you may not know how to tackle it or know how to use your preexisting skills to weather a storm. "I wanted to make sure I documented certain things so if others are going through this, you're not alone. I documented this from both a personal and professional perspective."

Turner developed a methodology called PARSE (Prepare, Assess, Remediate, Sustain, and Examine) in her professional life that she has used in Fortune 500 organizations throughout her career. "I thought, 'Wait a minute, if I could do that at a company, how did I actually apply it to my life?'" said Turner. "I found out there were areas where I probably should have been applying certain things."

"I give readers a template in the book for how you would develop a strategy at an organization for both a long-term and short-term perspective, but the feedback I've been getting is that people who aren't in the industry have still been able to identify with that," said Turner, whose readers have included Alzheimer's caretakers who have been able to apply these strategies to their own life, for example. 

Though this book passes on the expertise that led Turner to her successes, she said her greatest accomplishment is being a grandmother of two grandsons, aged seven and four, "Who I am pretty sure are geniuses!"