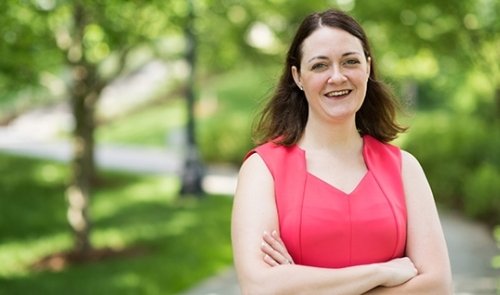 This degree has enriched me beyond belief. I have become an educational role model for my daughters – its never too late or too hard to go after what you want.
Q: "Tell us about yourself, Maria."
A: "I turn 40 the day before graduation! My husband and I have two daughters – 12 and 8 – who keep us very busy. My oldest daughter is a competitive spring board diver and my younger daughter shows horses and plays lacrosse. I also ride horses and compete in shows (hunter jumper class)."
Q: "Describe your professional experience?"
A: "I was the deputy communications director for the State Treasurer of Connecticut before having my first child. I then decided to stay home and raise the girls. I stay involved in my community and served as the president of the Board of Education for three years. Five years ago my mother passed away from brain cancer and I threw myself into non-profit work. I served as the Chair of the local Relay for Life for three years, growing the event to raise tens of thousands of dollars. I also served on the Board of Directors of the Connecticut Brain Tumor Alliance and was president for the last three years. I was a fundraiser and advocate who helped raise over a million dollars for brain tumor patients in Connecticut."
Q: "What was your motivation for pursuing your degree?"
A: "I majored in International Relations and Anti Terrorism in undergrad and have always been interested in the subject matter. I was anxious to restart my career and actually work in my field now that my children were getting older, so I decided to pursue a higher-level degree."
Q: "Why did you choose Norwich?"
A: "I chose Norwich because of a family connection. My dad was in the development office in the early 1980s and always spoke so highly of the school. I will actually be carrying part of his official uniform from his time at Norwich with me during graduation. Norwich is unique to me because of the connection to my dad – and because of the military tradition. The subject matter was rooted in honor and more than an abstract connection to real world policy."
Q: "Prior to beginning your courses at Norwich, what were some of your expectactions for an online degree program?"
A: "The online course met my expectations in terms of rigor and requirements. I found that as the courses went on I became more self-determined and self-motivated to stay connected to the program and stay on top of the work."
Q: "How have you grown personally and professionally since completing your coursework and degree from Norwich?"
A: "This degree has enriched me beyond belief. Not only was I able to regain a sense of self and purpose after years of devotion to my kids and family, but my hard work became a source of pride for my children who watched me every step. I have become an educational role model for my daughters – its never too late or too hard to go after what you want."