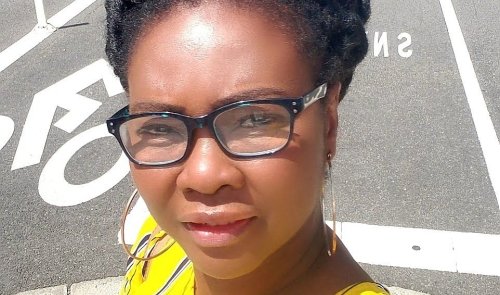 One thing I'm grateful for is the opportunity that the online program offers to people like me who would not have pursued a degree without flexibility. I do not regret one bit of my decision to pursue an online program.
Q: "Tell us about yourself: your job, family, and interests/ hobbies."
A: "I am a middle child of a family of seven. I have three sisters and a brother. I am a mother to a beautiful and smart daughter. Originally from Chad, I was born and raised in France. I am what people refer to as a 'Third Culture Kid' because I spent most of my childhood moving around due to my father's assignments abroad as a diplomat. As a result, I grew up in cultures different than my parent's culture.
I am currently an employee with USAID, the premier humanitarian assistance international agency. I love what I do, and love that at the end of the day, my team makes a difference in people's lives."
Q: "Why did you choose Norwich, and what made Norwich's program stand out?"
A: "I wanted to attend a school where diversity is celebrated.  When I learned about Norwich University through internet research, I was immediately pleased with the school curriculum and the diversity among students. Most students in the international relations master's degree program at Norwich have military background that exposed them to different cultures. Some students who enrolled from all over the world offered a different perspective, which made the class discussions rewarding and valuable."
Q: "Did you have any uncertainties with choosing an online program? If applicable, what was the deciding factor in pursuing an online degree versus a traditional on-campus degree?"
A: "As a single parent, Norwich presents the best alternative for someone like me who works a full-time job and takes care of my little one. One thing I'm grateful for is the opportunity that the online program offers to people like me who would not have pursued a degree without flexibility. Being that Norwich was my first online experience, I was a little bit anxious, but, in the end, it all worked well with my busy schedule. I do not regret one bit of my decision to pursue an online program."
Q: "What has been your biggest personal or professional success since starting and/or completing your coursework and degree? How did Norwich help you achieve this goal?"
A: "I must say that I've grown both personally and professionally since I started my degree at Norwich University. I have learned to connect the dots between international relations theories and world events. I now understand better how some conflicts evolve and why some world leaders made the decisions they make. Professionally, I now use some of the analytical tools gained from the program to apply to my day-to-day job. With my master's degree, the experience already gained in the international field, and my trilingual skills, I'm ready to go conquer the world."