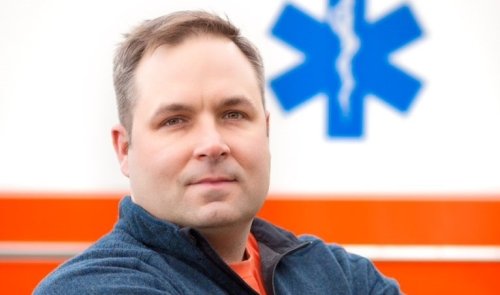 The program seemed like a perfect combination of a tradition I could be proud of and a modern educational platform I could manage in my day-to-day craziness.
Q: "Tell us about yourself."
A: "I grew up in Central Massachusetts then moved to New York, Maine, and now Vermont. I am married with two daughters. My daughters are 15 and 20 years old. One is in college at St. Lawrence University, and the other is in high school at Mount Mansfield. I enjoy the benefits of living in New England, including hiking, gardening, and just being outdoors."
Q: "Please describe, briefly, your professional experience and current employment."
A: "My professional life started as a paramedic. I worked full-time in emergency medical services in Syracuse, NY, and then Portland, Maine. In 2003, my role shifted from the ambulance to the classroom, and for the next 13 years, I taught paramedics while still practicing as an emergency medical provider part-time. In 2016, I became Chief of Emergency Medical Services for the State of Vermont and embarked upon a new path of public administration. I now am the Director of Emergency Preparedness, Response, and Injury Prevention for the Vermont Department of Health. In this role, I oversee not only emergency medical services but also numerous other preparedness functions for the state."
Q: "Why did you choose Norwich?"
A: "I gravitated to Norwich because of its legacy and ethos. I have friends who are alumni, and I always appreciated their pride and admiration of what Norwich did for them. Because I could only be a part-time student, I looked for an online program that could accommodate a busy full-time life. Reading about the program, it seemed like a perfect combination of a tradition I could be proud of and a modern educational platform I could manage in my day-to-day craziness."
Q: "Prior to beginning your courses, what were some of your expectations for an online degree program and how were those met or challenged based on your experience with Norwich?"
A: "I knew earning a master's degree would be a challenge. Balancing work, family, and education is no small endeavor. The master's program was indeed a challenge. I had to work hard to keep up and to maintain balance with everything else swirling around me. However, I found meaningful support and a system willing to work with me to overcome these challenges with Norwich. It was difficult, but I never felt alone in the process. From my fellow students to the faculty to the numerous other support staff, I very much benefited from their ongoing assistance and encouragement."
Q: "What has been your biggest personal or professional success since starting and/or completing your coursework and degree? How did Norwich help you achieve this goal?"
A: "Three months after beginning my public administration program with a concentration in crisis leadership, the COVID-19 pandemic began. Because of department vacancies, I went from a junior section chief in the Department of Health to one of the incident managers in the Health Operations Center. In that role, I managed the incident command structure for Vermont's COVID-19 response and was responsible for more than 600 deployed personnel.
I rapidly found myself balancing a formal master's program and an unexpected and overwhelming, real-life, full-speed apprenticeship. I had to take one semester off as we set up the State Emergency Operations Center, and Norwich staff were completely supportive and worked with me to minimize the impact of my time away. When I resumed the program in the summer of 2020, it was fascinating to apply the theoretical lessons to the never-ending leadership challenges of the pandemic."
Q: "What aspects of your Norwich experience will you carry most strongly with you?"
A: "I won't soon forget the motto "I'll try." I cannot tell you how many times during the pandemic when faced with enormous challenges and seemingly insurmountable tasks, I repeated that motto in my head (and frequently out loud to my leadership). It offered an internal source of inspiration thinking of the many others who shared a similar experience."