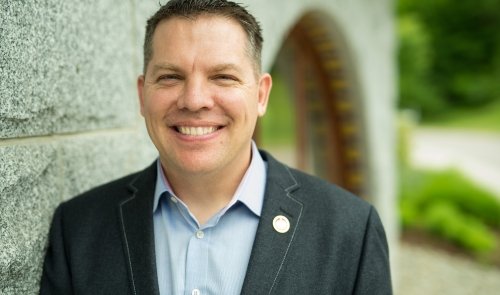 A master's degree transformed me into an even more effective international military operations planner and provided a broader strategic perspective in future assignments with a focus on international security.
Q: "Tell us about yourself and your family."
A: "I hail from Jackson Hole, Wyoming.  My wife and I have one four-year-old daughter. We currently live near Stuttgart, Germany and we are moving to Washington D.C. in fall 2019 for my follow-on military assignment.

World travel is our primary family hobby. In the last few years, our European living has offered us many opportunities to visit neighboring countries, ski in the Alps, and attend various folk festivals. Also, as a family, we travelled all over Asia, Australia, New Zealand, and other Pacific Islands, such as French Polynesia.  Prior to being married, I have also enjoyed international travel in-between of my numerous overseas military deployments.
Another hobby that keeps me grounded and "gives me my Zen" is gardening, especially, growing various rose-varieties.  I also enjoy paddle boarding and playing competitive sports."
Q: "Please describe your professional experience."
A: "I am proud to be a part of unique band of brothers and sisters who serve one of America's greatest institutions, the United States Marine Corps. My entire military life has been a cross-cultural adventure shaped by various aspects of international relations. Having experienced the matters of life and death during my four combat tours to Iraq and Afghanistan, numerous operations in the Persian Gulf region, the US Marine Security Guard embassy duties in Africa and Europe (Guinea, Kenya, Uganda, Algiers, Tunisia, Russia), and the Marine-Air-Ground Task Force's sea-based operations in the Asia-Pacific region, my aspiration for competence in the field of international relations increased exponentially. I currently serve as the Operations Chief for the Marine Corps Forces Europe and Africa."

Q: "What was your motivation for pursuing your degree?"
A: "As a Senior Staff Non-Commissioned Officer, I want to keep the spirit and relevance of the Corps alive for the current and future Marines. The participation in the international relations online program (International Security concentration) is my chance to contribute to the Corps while becoming a well-rounded international relations professional. I believe that the master's degree transformed me into an even more effective international military operations planner and provided a broader strategic perspective in future assignments with a focus on international security."
Q: "Why did you choose Norwich?"
A: "Norwich University's Master of Arts in International Relations was the best fit to enhance and formalize my international experience and education gained through my undergraduate studies and concurrent military career. The participation in this cross-disciplinary program provided me the solid foundation for better understanding and analysis of international affairs, conflict resolution strategies, and international security issues. I was particularly interested in the research component that could help me apply both academic knowledge and military experience to the specific topic within the geographical areas under my current military operations planning.
Lastly, Norwich University's affiliation with the military forces, caliber of students and professors, small class sizes, flexible online format, and the ability to gain a pertinent advanced degree from a respected institution provided the optimal post-graduate program for my personal and professional aspirations."
Q: "Did you find you were adequately supported by Norwich faculty and staff?"
A: "I will always remember the analytical approach taught by the Norwich professors who have helped me become a better international relations writer and thinker. I was also overwhelmed by the amount of support and enthusiasm from the professors, staff, and fellow students in helping me pursue my Master's Degree."
Q: "How have you grown personally or professionally since completing your coursework and degree?"
A: "I have grown both personally and professionally since completing my coursework and degree.  Personally, I have become a better analytical writer who has been able to publish research in various peer-reviewed magazines (international relations and military affairs). Professionally, I have transformed into a better international military operations planner as well as a well-rounded international relations professional. Also, I have acquired a broader strategic perspective that can be utilized in the future assignments with the focus on international security.."
Q: "What aspects of your Norwich experience will you carry most strongly with you?"
A: "I feel empowered to be a Norwich alumnus and consider myself very fortunate to be associated with an academic institution with the principles that are perfectly aligned with my personal and professional principles as a US Marine with the 24-year military carrier."