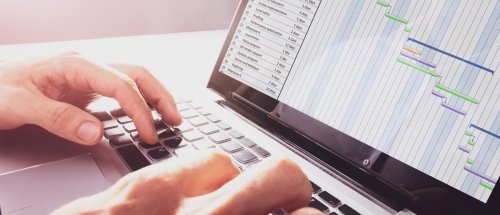 Project Management
No prerequisites. No application. Register online.
Well-run projects can result in impressive accomplishments, both personally and professionally. Astonishing historical feats, from space travel to cutting edge technology, have been achieved by effective project teams. Not only are Project Managers facilitators of exciting projects, but they also earn, on average, more than $87,000 a year. Good PMs are in demand across industries—whether you'd like to transition into this line of work or you're already in a PM role and want to develop your skills, this program is designed to help. Join us to increase your professional confidence and your chances of landing a job, promotion, or higher salary. All course materials provided. Norwich Pro also offers a PMP Certification Training course.
Learning Format
Designed with built-in flexibility for working adults and done the Norwich way with special emphasis on quality, innovation, and challenge, these courses can work into a busy schedule and fit in around work and family. There are deadlines at the end of each week, but you choose when to get the work done. All that's needed is an internet connection, so you can take our courses from almost anywhere in the world.

Who Should Register
Adults looking to transition into a Project Management career, Project Managers who want to do better work, and anyone who works in a field that heavily relies on Project Management approaches, including: Technology, Healthcare, Engineering, Construction, Banking & financial services, Law, Education, & others.

What You'll Need To Succeed
Devote 6-8 hours per week and spread your hours evenly throughout the week. Ensure that you can apply your lessons to your real-life experiences and do the extra assignments when you can. Be prepared to work in groups remotely.
These noncredit, instructor-led courses can be taken as part of the certificate or individually.
Complete the courses below to earn the certificate:
PM310: Project Management Overview
PM320: Applied Psychology in Project Management
PM330: Business Essentials for Project Managers
PM340: Managing Complexity