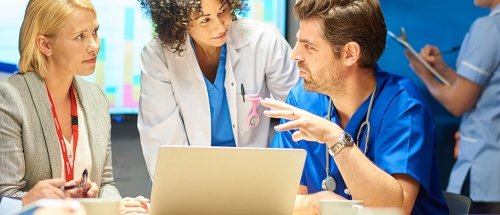 HFACS Healthcare Training
Recognized as the global standard for conducting a thorough and credible analysis of an adverse event, learn how to address human factors and improve patient outcomes.
Norwich University and HFACS, Inc have partnered to provide the global standard in human factors analysis and healthcare safety training. Developed originally in the military and aviation industries, our methodologies have been used by numerous fortune 500 companies including many well-renowned healthcare organizations. Our innovative tools and methods are also espoused by many accrediting agencies and patient safety organizations within the healthcare industry.
Let HFACS & Norwich University help your healthcare organization optimize quality, improve safety and maximize performance! This intensive 2-day online seminar provides training in the application of innovative methods for reducing risk and improving care. Continuing Medical Education (CME) Units are available - see below!
Upon completion, participants will have the skills to apply the HFACS-Healthcare Framework, along with its companion tools to (1) perform a thorough and credible human factors analysis of patient harm events and (2) systematically generate effective interventions to improve safety.
The Global Standard
HFACS has become the global standard for investigating human error-related accidents across numerous, complex, high-risk industries.
The HFACS team and their work has won several awards from major organizations such as the Flight Safety Foundation, the Aerospace Medical Association, the Aerospace Human Factors Association, the American Psychological Association, and the Human Factors and Ergonomic Society.

Topics to be Covered
Basic HFACS/HFIX Methods:
Integrating Human Factors & Systems Engineering into the RCA process
Intro to the Human Factors Analysis & Classification System (HFACS)
Interviewing Techniques Using HFACS
Transforming traditional RAC Diagraming Methods Using HFACS
Intro to the Human Factors Intervention Matrix (HFIX)
Designing Proactive Tools using HFACS & HFIX
 
General Human Factors Topics:
Fatigue Management
Designing Effective Warnings and Alerts
Attention, Monitoring and Display Design
Automation and Human Performance
Teamwork and Communication
Safety Culture

Attendees will Receive:
HFACS-RCS Handbook
HFACS Interviewing Guide
HFACS/HFIX/FACES Tools and Checklist
Certificate of Completion
Including tools that support both ANALYSIS and PREVENTION. Norwich University will award 2 CEUs to each attendee who successfully completes the course. Continuing Medical Education (CME) Units are available. 
Clients:
Mayo Clinic
AdventHealth
MedStar Health
Orlando Health
University of Wisconsin Health
Sloan Kettering Cancer Center
MD Anderson Cancer Center
Greenville Hospital Systems
Choose from multiple dates. Register now >