Norwich University/NUARI to share $8M Grant for Cyber Preparedness
Norwich University Applied Research Institutes (NUARI) and Norwich University will share an $8 million grant from the Department of Homeland Security (DHS) and Federal Emergency Management Association (FEMA) with four universities for cybersecurity preparedness education courses.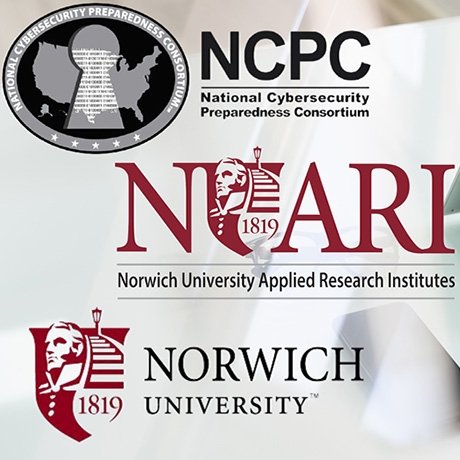 On Sept. 1, the DHS/FEMA awarded a Continuing Training Grant (CTG) to the National Cybersecurity Preparedness Consortium (NCPC), of which NUARI is a core member. The other partner universities are The Center for Infrastructure Assurance and Security (CIAS) at The University of Texas at San Antonio (UTSA), The Texas A&M Engineering Extension Service (TEEX) National Emergency Response and Recovery Training Center (NERRTC), The University of Memphis Center for Information Assurance (CfIA), The University of Arkansas Criminal Justice Institute (CJI).
The $8 million in funding was made available thanks to Senator Patrick Leahy, who added it to the FY23 omnibus appropriations bill in December before leaving office. Senator Leahy was a longtime supporter of the work of NCPC to improve cybersecurity with training and education. He and Senator Cornyn formally authorized FEMA's work with NCPC in 2022.
Since 2004, Norwich University and NUARI have teamed with the NCPC to develop and offer courses in five topic areas: awareness, coordination, and planning; cyber incident response and recovery; infrastructure technical training; and cyber threat information sharing. The courses are developed with funding from the Department of Homeland Security/FEMA and are offered at no cost to States, Locals, Territories, and Tribes.
"As cyber-attacks continue to evolve and become more frequent, our preparedness to address them must evolve too. With the support of federal funding, the training initiatives provided by Norwich University and NUARI will help equip Vermont's first responders and tech experts with the skills necessary to protect our communities." - Vermont Senator Peter Welch
The training that the NCPC provides aligns with significant points of President Biden's Executive Order (EO) 14028, signed on May 12, 2021, "Improving the Nation's Cybersecurity," and addresses recommendations highlighted in the report issued by the Cyberspace Solarium Commission in March 2020. The NCPC training courses are also aligned with FEMA strategic plan goals (preparedness, equity, and climate resilience) and continue to integrate strategies aligning these goals with the cybersecurity training initiatives and ensuring all courses are continuously updated, 508 compliant, and FEMA certified.
Through the Continuing Training Grants (CTG) program, FEMA provides funding for eligible applicants to support and target training solutions to facilitate an integrated, whole community, risk-informed, capabilities-based approach to preparedness. Recipients of CTG awards develop and deliver training to address urgent and emerging preparedness gaps for the nation.
"State and local first responders, as well as workers in the IT and OT sectors, are on the front lines of the cyberattacks against our communities and critical infrastructure. Norwich and NUARI are proud to continue to provide essential training to help individuals and organizations meet the changing challenges of cyber threats and critical infrastructure risks." – Phil Susmann, President, NUARI.
NUARI and the NCPC will develop and deliver new training courses based on current and emerging cyber threats. Courses identified for development will address: Information Sharing and the operations of an Information Sharing and Analysis Organization, Malware Response and Recovery, Cybersecurity fundamentals, defense, incident response and recovery techniques, and other cyber courses as needed.
***
Norwich University Applied Research Institutes (NUARI) is a 501(c)(3) non-profit that serves the national public interest through the interdisciplinary study of critical national security issues. We are partially funded by the Department of Homeland Security and the Department of Defense and federally chartered under the sponsorship of Sen. Patrick Leahy. We are co-located with Norwich University in Northfield, VT, and share their ideals of academic excellence, innovation, and service to the country.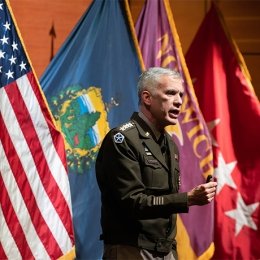 Norwich University is known for its ability to send leaders out into the world, but on Wednesday, Norwich 8, welcomed a world-renowned military leader through its doors when General Paul Nakasone walked onto campus. Later, another Norwich University first was announced after the university signed an Educational Partnership Agreement with U.S. Cyber Command (CYBERCOM).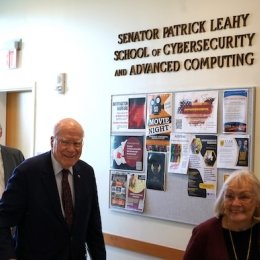 Senator Patrick Leahy and his wife Marcelle visited the campus of Norwich University and the Senator Patrick Leahy School of Cybersecurity and Advanced Computing on November 16, 2023.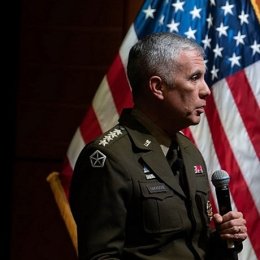 On Wednesday, November 8th, Norwich University signed an Educational Partnership Agreement with U.S. Cyber Command. This agreement coincided with a visit from General Paul Nakasone, Commander, U.S...