How to Become a CISO: Path Toward a Career in Cybersecurity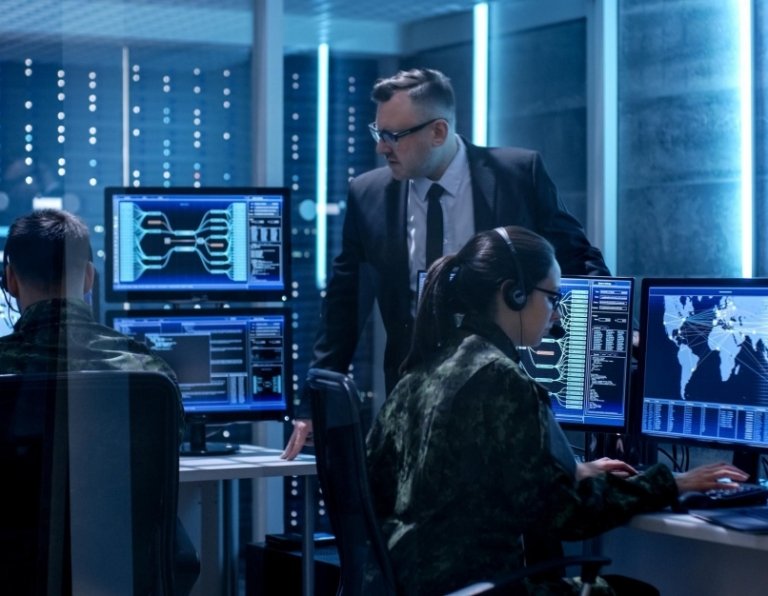 In today's digital age, cybersecurity is more important than ever to protect both intellectual and personal information. As a result, professionals who are skilled in protecting an organization's data and information are in high demand.
Individuals with a technology background and a passion for helping businesses protect data, proprietary information, and internal communications are likely to be drawn to roles in cybersecurity. Those capable of implementing cybersecurity strategies, managing an information systems security team, and working alongside other C-level executives may pursue a chief information security officer (CISO) role.
Individuals who are interested in learning how to become a CISO can consider earning an online master's degree in cybersecurity.
What Does a Chief Information Security Officer Do?
With so many different professionals working in IT (information technology) roles, you may ask what a CISO does as a critical member of an organization. Though sometimes working directly for the chief executive officer (CEO), these C-level executives more often report to the chief information officer (CIO) or the chief operations officer (COO). Providing guidance in security protocols and disaster recovery strategies, the CISO is charged with making company-wide decisions regarding security architecture, IT system operations, and prevention of data loss and fraud.
Although many of the specific responsibilities of this IT executive depend on the size of the organization and its adherence to government regulation, common tasks exist across all industries. Professionals who are researching how to become a CISO will find a primary responsibility of the job is to manage security operations that include real-time analysis of firewalls and system vulnerabilities. The CISO also provides up-to-date information on emerging cyber attack strategies and determines the best investments in software, services, and other tools to strengthen system security.
In addition to identifying and solving vulnerabilities in IT systems to prevent breaches, CISOs establish technology recovery protocols that are relevant to computers, servers, and wireless devices used by employees. CISOs also maintain system architectures and, in some cases, contract ethical hackers to determine weaknesses where an organization's IT system potentially can be breached.
Steps to Become a CISO
Those interested in attaining this high-level technology position must pursue an education and gain experience in the field. The following steps can help prospective chief information security officers.
Step #1: Earn Your Bachelor's Degree        
To become a CISO, individuals can start by earning a bachelor's degree in the field. Some degree options include business administration, public administration, cybersecurity, or a related degree. Throughout undergraduate courses, students develop a foundation to prepare them for entry-level positions and gain hands-on experience that will be useful for early success in the field.
Step #2: Earn Your Master's Degree     
Individuals should gain a strong foundation in technology and technical information. IT professionals often find that graduate-level degree programs, such as a Master of Science in Cybersecurity, are beneficial to their career trajectory. MS in Cybersecurity programs are designed to provide students with the business acumen, management skills, and network security expertise to excel in a chief information security officer role. 
Step #3: Earn Certifications             
In addition to advanced education, CISOs often possess IT certifications. The Certified Information Security Manager, Certified Information Systems Security Professional, and Offensive Security Certified Professional certifications are regarded by the industry as the top three choices. Infosecurity Magazine suggests these certifications are ideal for IT security professionals. Each requires the holder to pass an exam and participate in continuing education to maintain it.
Skills of a Chief Information Security Officer
The process of becoming a CISO depends on whether a professional can develop certain technical skills and competencies related to the field, including an in-depth knowledge of a variety of information systems and networks.
One of the most important soft skills revolves around leadership. CISOs should be able to lead by example, demonstrating knowledge of information systems and databases. They should be well versed in IT-related law and compliance, with the ability to implement new and existing policies. Those in C-suite positions should also demonstrate project management, problem-solving, and decision-making skills. Earning an advanced degree can help prospective CISOs develop technical skills as well as verbal and written communication, interpersonal, and leadership skills.
Future Growth and Salary of CISO Jobs
Data from the U.S. Bureau of Labor Statistics (BLS) suggests the number of jobs for top executives, including CISOs, is projected to grow by 4% between 2019 and 2029, which is equal to the average projected growth rate for all occupations. Exact employment growth, however, is largely dependent on the industry.
While projected job growth rates in this career are stable, earning potential is significant. The compensation website PayScale reports the median annual salary of a chief information security officer is around $163,700, with the highest earners receiving more than $228,000 per year.
Begin Your Career as a CISO
Aspiring CISOs need the educational background to become cybersecurity problem solvers as well as business leaders. The online Master of Science in Cybersecurity program at Norwich University provides graduates with the skills to understand, evaluate, and protect information assets.
Norwich University has been designated as a Center for Academic Excellence in Cyber Defense Education by the National Security Agency and Department of Homeland Security.
The university's MS in Cybersecurity program, in addition to robust coursework, offers students hands-on experiences, such as hackathons and forensic exercises. Students also have the opportunity to intern at a number of IT companies.
Discover how an online MS in Cybersecurity from Norwich University can help you learn how to become a CISO and achieve your career goals.
Recommended Readings
How to Become a Cybersecurity Engineer 
How to Become an Information Security Analyst 
6 Trending Cybersecurity Careers
Sources
What Is a CISO? Responsibilities and Requirements for This Vital Leadership Role, CSO 
C-Level Executive, Techopedia 
Here's What Cybersecurity Professionals at Companies Actually Do, and Why They're So Vital, CNBC 
How to Become a Chief Information Security Officer (CISO), Business News Daily 
What Makes a CISO Employable?, Infosecurity Magazine 
Average Chief Information Security Officer Salary, PayScale 
Top Executives, U.S. Bureau of Labor Statistics 
25 Industries Experiencing the Fastest Growth in the U.S. Economy, USA Today