How to Become an Archaeologist: Career Outlook & Salary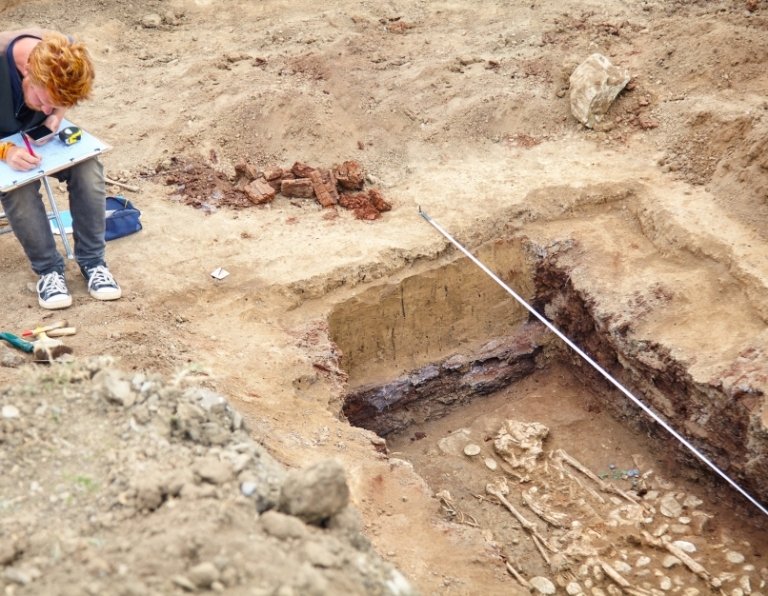 The Society for American Archaeology (SAA) defines archaeology as the use of material remains to study ancient or recent human history. A student taking courses in the field might analyze physical remains of a long-dead civilization to ascertain who they were, what they did, and how their society functioned. Students might find archaeology both an entertaining and informative area of study.
While popular culture romanticizes archaeologists, in real life, much of their work is done within the confines of a lab, analyzing data and artifacts collected from the field, explains a U.S. News & World Report article. When conducting fieldwork, archaeologists spend a fair share of time at site excavations with visits to exotic locales. Students interested in becoming an archaeologist and gaining access to a vast array of cultural resources should consider pursuing an advanced degree, such as a Master of Arts in History.
What Does an Archaeologist Do?
Archaeologists are a bit like history detectives. Using clues ascertained from artifacts or writings, they piece together a civilization or society. Sometimes, this work requires a lot of digging, both physically and metaphorically. Students interested in how to become an archaeologist typically limit their study to certain regions. Knowing the local area and its recent and ancient past can support greater success in the field.

Necessary Skills and Competencies              
Archaeology is a demanding field, and students embarking on this journey to become an archaeologist must have a variety of tools to do the work. The Houston Chronicle notes these skills:

Ancient and Modern Language Proficiency
Language and culture define different civilizations. To fully grasp a society, archaeologists should possess at least three years of study at a university level in the language or languages relevant to their chosen region of study. Additionally, students should familiarize themselves with the modern language of the region, since it has practical applications in the field. If written texts of the society exist, learning the language will help to decipher details that may not be obvious from artifacts.

Existing Degrees
University students wanting to become an archaeologist should have an existing degree, such as one in art, history, or languages, that provides a platform for expansion into an archaeological degree. Science-based degrees can also precede archaeology, bringing innovation and development to the field. Students with degrees in physics, chemistry, or geology, for example, can easily adapt their competencies to the realm of archaeological research.

Practical Knowledge and Experience
Students who want to become an archaeologist should possess a basic background on how to function in the field through volunteer work, especially in on-site digs. By taking part in volunteer programs and internships, students can learn important techniques for ready application when starting the practical part of a degree program.

Effective and Appropriate Communication
Archaeologists should have the skills to switch between jargon in the field and common speech to communicate effectively since part of their responsibility is educating the public on their findings. To this end, a successful archaeologist must communicate efficiently, whether writing a paper in a journal to peers or delivering a public lecture.

An Understanding of Technology
While archaeology deals mostly with the past, using modern technology is necessary to collect and analyze data to generate meaningful results. Technology such as a geographic information system (GIS) and computer-aided design (CAD) helps to turn the intangible results of a study into something anyone can appreciate. CAD allows for the creation of models that may be printed using sophisticated 3D printing techniques. CAD also offers a method for interacting with incomplete data to better draw inferences.
Additionally, applications such as ArcGIS (which allows archaeologists to develop spatial database systems for analysis) and Ilium (which can be used for cataloging and exporting finds) compose some of the core technological competencies that archaeologists use in their fieldwork.

Types of Archaeology        
For students considering how to become an archaeologist, one concentration of study can be quite different from another in the same field. The SAA notes that archaeology work might revolve around human remains (bioarchaeology), ancient plants (paleoethnobotany), or even stone tools (lithics). Students aren't confined to one body of study; they can specialize in an area.
Archaeology offers a host of potential career paths. Each path focuses on specific archaeological fields. These fields usually involve different work environments and commonly focus on finding connections between specific cultural elements of the past and the modern day. Some of the fields associated with these career paths include the following:

Classical Archaeology
Classical archaeology studies ancient Greek and Roman civilizations. The architecture, monuments, art, and philosophy from these civilizations can be studied in tandem under the Greco-Roman designation. Athens and Rome are the two cities most commonly associated with classical archaeology.

Historical Archaeology
Historical archaeology studies the effects of past societies on modern living. Historical archaeologists commonly work with historians and anthropologists to study and interpret material artifacts such as books, seals, engravings, and drawings from around the world.

Underwater Archaeology
Underwater archaeology focuses on submerged archaeological sites such as water-buried cities or shipwrecks. Underwater archaeologists work to obtain and preserve materials to better understand cultures and civilizations at the time of submersion or catastrophe. They often use special equipment to safely and carefully excavate key materials.

Ethnoarchaeology
Ethnoarchaeology seeks to understand the hunter-gatherer habits of cultures through the study of specific artifacts like weapons and tools. Ethnoarchaeologists use artifacts to form connections between the past and modern hunter-gatherer societies, such as North American Eskimos and the Aboriginal Australians.

The Steps to Become an Archaeologist
The U.S. Bureau of Labor Statistics (BLS) reports that becoming an archaeologist requires at least a master's degree in archaeology; anthropology; or a related field, such as history. For a student trying to understand how to become an archaeologist, a few requirements are necessary to move forward within this field of study.

Step 1: Meet the Educational Requirements
The SAA notes that at the high school level, a student should focus on history, math, English, and sciences to create a solid foundation for a career in archaeology. A budding archaeologist may concentrate on foreign languages to support a path in this field.
Postsecondary educational requirements include a four-year degree, usually in anthropology or archaeology. To enhance skills beyond this point, an aspiring archaeologist should consider Norwich University's online Master of Arts in History that provides a solid basis for analytical comparison and a frame of reference for studying the past.

Step 2: Gain Experience
As previously noted, a student considering how to become an archaeologist should know that practical experience in the field can positively impact success. A student can gain practical experience by participating in learning expeditions or field schools. Experienced archaeologists can offer valuable insight to new trainees to improve their practical techniques.   
 
Archaeologist Salary
According to the BLS, anthropologists and archaeologists earned a median annual salary of $63,670, as of May 2019. Those salaries in the highest 10% topped more than $97,950.

Job Outlook for Archaeologists
The BLS projects a 5% growth in the job market for archaeologists between 2019 and 2029. The field remains very competitive for job openings. Applicants with at least an applied master's degree and extensive experience in fieldwork will have an advantage in filling these open positions. Earning a Master of Arts in History from Norwich University can provide the educational background necessary for this role.

Start Your Archaeologist Training
Widely recognized for academic excellence, Norwich University is accredited by the New England Commission of Higher Education. Established in 1819, the institution is the birthplace of the ROTC and the first private military college in the U.S.
For individuals exploring how to become an archaeologist, Norwich University's online Master of Arts in History program can serve as the first step in their education. The 18-month program offers four concentrations—American History, World History, Public History, and Legal and Constitutional History—and accepts a maximum of 15 students per class. At the end of the program, graduates may qualify for many roles in the archaeology field as well as in other public history venues. Embark on your archaeologist training today.
Recommended Readings
8 Compelling Careers in History
How to Become a Researcher
5 Benefits of a History Degree
Sources:
What Is Archaeology? Society for American Archaeology
What Is an Archaeologist? U.S. News & World Report
What Are the Skills of an Archaeologist? Houston Chronicle
Types of Archaeology, Archaeology Expert
Anthropologists and Archeologists, U.S. Bureau of Labor Statistics
Archaeology as a Career, Society for American Archaeology