Cost-Effective Care: Definition and Nursing Strategies for Improvement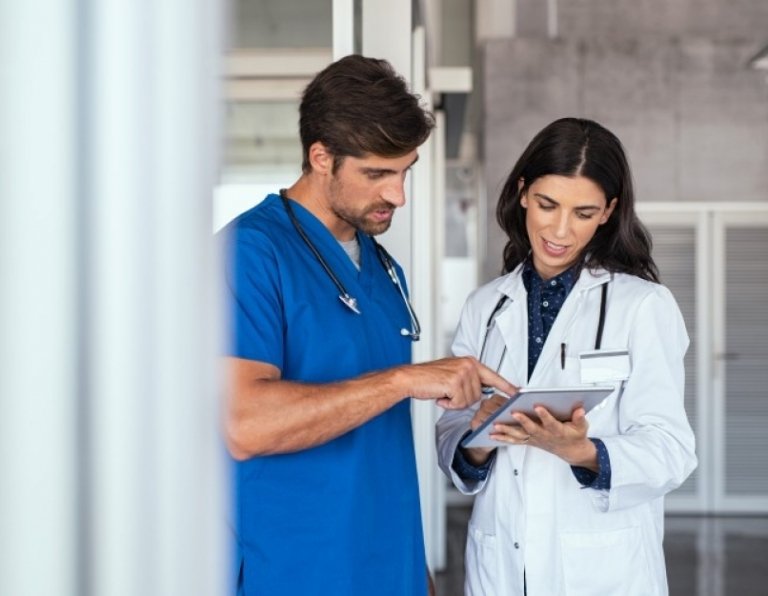 With U.S. health care costs skyrocketing, medical establishments are looking for new strategies to lower expenses while maintaining patient satisfaction and treatment success rates. One approach is utilizing  nurse practitioners more in the care of patients. By studying the principles of cost-effective care and applying lessons learned to patient interactions, nurse practitioners can play a leading role in the battle to lower medical expenses. Programs such as an online Master of Science in Nursing can prepare nurses for these roles.
What Is Cost-Effective Care?
Health care providers are increasingly adopting cost-effective care strategies, which focus on controlling expenses associated with different treatment methods and institutional operations without compromising the quality of patient care. To provide cost-effective care, health care professionals must make intelligent decisions about how to invest resources.
Doctors and nurse practitioners often explore new treatment protocols, tests, and technologies that may result in better care at a lower cost. This requires innovative thinking and dedication to researching new trends and best practices, while keeping patients' needs and well-being at the forefront of care.
The demand for cost-effective care strategies is growing as U.S. health costs continue to rise. National health expenditures accounted for 17.7% of gross domestic product (GDP) in 2019, up 4.6% from 2018, due to higher spending on hospital and physician services, insurance, and prescription drugs, according to the Centers for Medicare and Medicaid Services (CMS).

Patient-Focused Nursing Strategies to Improve Cost-Effective Care
Nurse practitioners are taking on a growing role in primary care settings due to their diverse skill sets and a shortage of physicians in some regions. Recent studies have shown that NPs can provide care on par with physicians, at a lower cost.
In a Health Affairs study of electronic health record (EHR) data from the U.S. Department of Veterans Affairs, preventive care provided by nurse practitioners and physician assistants to chronically-ill patients resulted in a 6% to 7% decrease in total care costs, driven by lower emergency and hospital care expenses.
Nurse practitioners have the authority and leadership qualities to shape strategies that make health care services more affordable for patients. By focusing on patients' overall health and engaging in proactive care practices, nurse practitioners can influence cost trajectories. Nursing strategies to improve cost-effective care include:
Coordinated care for complex patients.
Proactive care.
Removing barriers to care.
Coordinated Care for Complex Patients          
A growing number of patients have  multiple chronic health conditions. As a result, the health care industry is emphasizing coordinated care in which multiple providers share patient information to ensure that necessary services aren't duplicated or overlooked. Coordinated care also involves the patient in care decisions. Nurse practitioners conducting regular preventive care visits can ensure patients practice  self-care regimens to reduce the need for hospitalization when conditions are not properly managed.

Proactive Care Strategies      
Proactive care strategies include screening patients for health risks and creating personalized programs to meet individual needs. Such strategies are effective in the care of older people to determine frailty and preserve daily functioning, according to the Journal of the American Medical Directors Association. Medical costs for people aged 65 and over account for nearly one-third of total U.S. health expenditures. Nurse practitioners can lower these costs by providing more frequent, proactive care visits to older people, filling gaps in physician care.

Removing Barriers to Care
Many patients are unable to maintain necessary health visits due to factors such as lack of transportation, lack of health insurance, or living in a remote area. Nurse practitioners can act as patient advocates, helping them to access resources to take control of their wellness. Rural areas often lack primary care providers, which creates opportunities for nurse practitioners to offer primary care services. More than 7,000 geographic locations or facilities are designated as health professional shortage areas (HPSAs) in the primary care field in the United States, according to the Health Resources and Services Administration. 
How Nurse Practitioners Help Health Care Facilities Manage Costs
Nurse practitioners use many tools and methods to optimize cost-effectiveness in medical care settings:
Electronic health records (EHRs) are extremely helpful in monitoring and recording patients' symptoms and progress. Health care providers can share EHR data to determine best practices and population health risks.
Online portals enable patients to view health records, make appointments, request refills, and communicate with nurses and aides. This resource helps involve patients in care decisions and reduce gaps in care.
Learning about new treatment methods, including prescription and medical device options, is an important component of cost-effective care. Nurse practitioners must weigh costs against benefits, with patients' well-being remaining the top concern.
The use of technology tools such as telehealth, wearable devices, artificial intelligence, and virtual reality, can enhance the efficiency of patient assessment and treatment.
Providing proactive, coordinated services for those with chronic conditions and medical risks enables nurse practitioners to reduce hospital admissions and emergency room visits.
By providing holistic care, NPs can address needs such as diet and exercise and identify new health and environmental risks.
Nurse practitioners' dedication to more frequent preventive care visits fosters patient trust and satisfaction.
Prepare to Advance Your Career by Earning a Master of Science in Nursing Degree
Norwich University's online Master of Science in Nursing (MSN) program offers a progressive online learning environment as well as strong faculty-student interaction and clinical workshops for students to gain an advanced nursing degree. By gaining graduate-level expertise, nurses can advance their careers and help to enact cost-effective care strategies in medical facilities and other health care organizations.
The MSN program features concentrations in Healthcare Systems Leadership, Nursing Education, and Nurse Practitioner. Three track options are available in the Nurse Practitioner concentration: Family Nurse Practitioner, Adult Gerontology Acute Care Nurse Practitioner, and Psychiatric Mental Health Nurse Practitioner.
Learn more about how to drive change and improve outcomes in the health care industry through Norwich University's online Master of Science in Nursing.
Recommended Readings:
The Nurse's Role in Preparing Patients for Flu Season During a Pandemic 
Nurse Leadership Qualities for Your Future Career 
How to Prevent Nurse Burnout
Sources:
Chapter 31. Strategies for Cost-Effective Care, AccessMedicine 
Going Beyond the EHR: Health Care Informatics, American Association of Nurse Practitioners 
Nurse Practitioner Cost Effectiveness, American Association of Nurse Practitioners 
CMS Office of the Actuary Releases 2019 National Health Expenditures, Centers for Medicare and Medicaid Services 
NHE Fact Sheet, Centers for Medicare and Medicaid Services 
Impact of Physicians, Nurse Practitioners, and Physician Assistants on Utilization and Costs for Complex Patients, Health Affairs 
Health Resources and Services Administration, Shortage Areas, Health Resources and Services Administration 
Cost-Effectiveness of a Proactive Primary Care Program for Frail Older People: A Cluster-Randomized Controlled Trial, Journal of the American Medical Directors Association 
Cost-Effectiveness Analysis, U.S. Department of Veterans Affairs