Challenges in Nursing and How to Work Through Them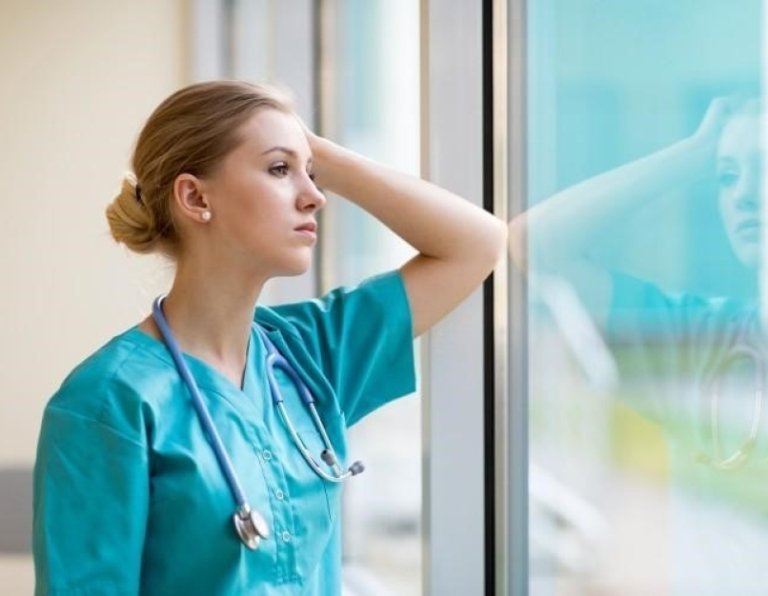 Nursing is one of the most rewarding and challenging professions in health care. During a 12-hour shift, nurses may take on a demanding workload due to staffing shortages; endure workplace bullying; risk exposure to infection; and, despite all their professional experience, still lose patients.
These challenges were especially prevalent during the height COVID-19. A survey of health care workers, including nurses, during the pandemic reported that 93% felt stressed, 82% experienced emotional exhaustion, and 75% felt overwhelmed. Furthermore, more than 30% of nurses who left the profession cited burnout — mental and emotional exhaustion — as the cause.
Although these challenges in nursing may seem insurmountable, nurse leaders and other health care experts are focused on alleviating nursing stress. Doing so can help prevent burnout, reduce medical errors, and improve patient care.
The Challenges of Being a Nurse
Nurses compose the largest part of the health care workforce. More than 5 million people have active nursing licenses (registered nurses, or RNs) nationwide, with those practicing working mainly in hospitals and long-term care. Being on the front line in providing direct patient care, nurses are vulnerable to numerous stressors that impact their physical and emotional health. It's no surprise that 50% of nurses treating COVID-19 patients have reported symptoms of depression.
Many challenges of being a nurse can contribute to stress, burnout, and depression. Without the proper coping mechanisms, these challenges can lead to medical errors, risks to patient safety, and poorer health outcomes.
Patient Deaths
Nurses cite patient death as a leading cause of stress. Because nurses spend more time with patients and their families than other health care workers they often form an emotional connection with patients who die. Nurses grieve in many ways, harder for some patients than others. RNs have various tactics that help them to cope with patient death.
RNs who provide professional nursing care to patients also provide emotional support to them. They must have difficult conversations with patients and their families. This impacts nurses' own emotional health.
Nursing Graduate Programs at a Glance 
Nurses may also choose to earn postgraduate degrees, such as a Master of Science in Nursing (MSN) or a Doctor of Nursing Practice (DNP). These degree programs can involve special areas of clinical focus, but they're essentially comprehensive courses of study, with in-depth coverage of clinical practice, nursing ethics, nurse leadership, and more.
Earning a graduate degree can be an important way for nurses to take on positions of greater leadership and authority, as well as higher salaries. The downside is that nursing graduate programs are typically expensive. They're also time-consuming: For nurses who already have a Bachelor of Science in Nursing (BSN), earning an MSN usually takes at least another two years.
Those who have concerns about scheduling flexibility and work-life balance may opt for an online graduate program, which offers more accommodation for an already busy life.
Communication Challenges
Effective communication with patients and other health care professionals is often challenging for nurses for several reasons. This can be especially true with cross-cultural patient communication. Language barriers or cultural nuances can result in miscommunication of vital health information among nurses and their patients.
Staff Shortages
Even before the COVID-19 pandemic, the health care industry suffered from a nurse shortage. As a result of staffing shortages, nurses may work double shifts or be responsible for more patients. Overwork can lead to fatigue, resulting in medical errors. The U.S. Bureau of Labor Statistics (BLS) states that about 194,500 RN open positions exist each year. Reasons for the shortage include:
High turnover. Up to 57% of nurses leave the profession in the first three years; between 17% and 30% leave during their first year.
Nurses nearing retirement. RNs begin to retire at an average of 51 years of age. Their departure puts more pressure on the profession.
Shortage of nursing school faculty. A shortage of nursing school faculty limits the number of new nurses who can pursue training each year.
Increased demand. The aging U.S. population and the COVID-19 pandemic are just two reasons for the increased demand for nurses.
Specialization. Specialization of care and an experience-complexity gap are causing a shortage of nurses with the right technical training and experience.
High Patient Ratios
Staffing shortages can result in high patient ratios, a challenge in nursing that can lead to poor patient outcomes. For instance, intensive care unit (ICU) nurses may become responsible for three or more patients rather than just one or two. This increase in responsibility can result in missed care or medical errors.
Risk of Infection, Injury, and Death
The BLS states that RNs are at risk of various injuries. The most common are back injuries (from lifting patients); coming into contact with harmful substances (needlesticks, harmful chemicals); and contracting diseases, such as the coronavirus. An estimated 3,000 health care workers, including nurses, died of COVID-19 in 2020.
COVID-19 Fears
During the COVID-19 pandemic, many nurses feared they would transmit the coronavirus to their spouse, children, and other family members. Many nurses took extreme measures, such as washing their clothes as soon as returning home and showering before hugging their children, to avoid infecting their loved ones.
Workplace Violence
Nurses may experience workplace violence including bullying and verbal abuse from doctors, fellow nurses and health care workers, and patients and their families. At the extreme end, they may be victims of physical abuse. Workplace violence is often unreported, and can take an emotional and physical toll on sufferers.
Electronic Medical Records
Electronic medical records (EMRs) are a significant part of a nurse's stress. Although the goal of this technology is to ensure that staff have the most up-to-date patient information, some nurses cite EMR data entry as a high-stress, laborious process that takes them away from patient care.
Moral Distress
Nurses experience moral distress, also known as moral injury, when performing a task that runs counter to their professional ethics or knowledge. During the COVID-19 pandemic, nurses suffered moral distress when not having sufficient resources, such as ventilators, to treat patients. Nurses also may be susceptible to moral distress when their workplace devalues their training and expertise.
Twelve-Hour Shifts
The 12-hour shift is standard for the nursing profession. However, it is linked to fatigue and medical errors, especially when nurses must work double shifts or cover too many patients. Experts are calling for a move to eight-hour shifts to alleviate nurses' working conditions and improve patient care.
How Nurses Deal with Stress
Other challenges in nursing are the various physical and mental health symptoms experienced due to stress. Symptoms can range from mild to debilitating. To manage stress and its symptoms, nurses can seek support and find effective coping mechanisms. This can improve their mental health, reduce errors and burnout, and improve patient outcomes.
Several different methods for how nurses may deal with stress exist.
Symptoms of Stress
Physical symptoms of stress include headaches and stomachaches, changes in appetite, poor sleep quality, and exhaustion. Emotional symptoms include anxiety, dread, fear, and compassion fatigue.
Stress Awareness
Managing nurses' stress is crucial to avoiding burnout and continuing to provide patient care. Fortunately, awareness of the problem grows in the health care community. Hospitals and other workplaces are increasing the availability of programs to help nurses manage stress and increase job satisfaction.
Mindfulness, Meditation, and Gratitude Journaling
Mindfulness, including the act of gratitude journaling, and meditation, including yoga and breathing exercises, can help people in challenging situations manage stress. Many mindfulness and meditation apps are available free online. Research supports gratitude journaling as an effective way to boost happiness and alleviate symptoms of depression.
Sleep
Getting enough rest is critical to maintaining health and mental acuity. Nurses who make sleep a priority can improve their mental and emotional health. An RN who works a 12-hour night shift but also has family responsibilities may have to reestablish a good sleep schedule.
Diet
Nurses on short-staffed floors have little time to take a restroom break, let alone to sit down to a healthy lunch or dinner. Poor nutrition, too much caffeine, and not enough water can lead to adverse health effects. Eating right is one way to improve physical well-being, increase energy, and reduce stress.
Exercise
Although nurses are on their feet all day, they often don't have the time to exercise, which can clear the head and release endorphins. Making time for the gym, a walk in the fresh air, or yoga can help nurses destress and improve their outlook.
Workplace Support
Support from employers and co-workers can help nurses recognize they aren't going it alone. Hospitals that provide nurses with safety initiatives, for example, can increase nursing job satisfaction. Emotional, mental, and physical wellness programs also can be successful.
Family Support
Reconnecting with loved ones and making family time a priority can help nurses destress and relax. Nurses can ask partners and spouses to take over family responsibilities during busy periods. Although caregiving comes naturally to nurses, having someone care for them may help relieve stress.
Talk Therapy
Nurses may endure high-stress experiences daily. Taking the time to talk with a mental health professional, such as a hospital chaplain or social worker, can help nurses cope better emotionally. Some hospitals and other workplaces have mental health support programs for their nursing and health care staff.
Professional Development
Continuing professional education is an excellent way to manage stress and other challenges in nursing. Upskilling and training can offer fresh perspectives to health care practices and new career opportunities. Nurses who learn new skills, or invest in their careers, are typically more engaged with their work. Hospitals that value continuing education for their nursing staff show that they recognize nursing's professional contributions to medical care.
How Nurses Can Help Families Cope with Stress
Hospital patients and their families also may face high levels of stress. Patients may be in pain or discomfort, and fearful about hospital procedures. As a result, family members may feel protective and frightened on their loved one's behalf.
Nurses can help families cope with stress by providing a professional presence to respond to questions and provide reassurances. Reducing stress also is a factor in how well patients and their families weather the recovery phase, which may help reduce post-intensive care syndrome, a condition that can cause PTSD in patients.
Nurses can help manage the distress of patients and their families in several ways.
Include the Families in Health Care Discussions
When patients and families are not updated on a patient's diagnosis or treatment, their stress can worsen, causing distrust in health care providers. This distrust can lead to more nursing challenges and poor patient outcomes. Nurses who include families in health care discussions help everyone understand the patient's condition and prepare them for the subsequent treatments. This matter-of-fact communication is crucial to alleviating stress and anxiety in patients and their families.
A Compassionate Ear
Patients see nurses more than doctors. They may establish a rapport with their nurse, and feel more open about asking questions and revealing anxieties. Nurses who listen to their patients' grievances or fears can uncover insights that may help with the recovery process.
Coping Strategies
A component of nursing is helping patients cope with a serious or life-threatening diagnosis. Nurses help patients cope with medical conditions by being compassionate to their fears and recommending healthy coping strategies. They may help patients identify priorities, such as getting their affairs in order. Nurses also help families cope after hearing a loved one's diagnosis by facilitating counseling with hospital social workers or chaplains.
Professional Insight
RNs use their training to understand what patients and their families aren't saying. Careful observation can help prevent stress-related outcomes, such as anxiety and depression. Nurses can pass along their observations and recommendations to medical staff, which can become a part of the treatment plan.
Guidance Through Grief
Nurses can help guide families of recently-deceased patients through the grieving process. They may be the first to tell the family that their loved one has died. They can make sure that families have access to hospital counseling services and help them through a difficult period.
Patient and Family Advocacy
Nurses can help patients and families navigate the confusing, often stressful hospital experience. They coordinate with other members of the care team, preparing patients for their next medical procedure or through hospital discharge. They educate patients about medications, doctor's orders, and other information needed for a successful recovery.
How Nurses Cope with the Death of Patients
Patient deaths are part of the nursing profession. Even so, coping with death is one of the most difficult challenges in nursing. Death can affect nurses in different ways. Some may feel the death of a child more deeply than that of an elderly patient. They may feel grief about the death of a patient with whom they had a rapport. Especially during the COVID-19 pandemic, nurses have dealt with the increasing burnout and fatigue associated with patient deaths.
Several different methods for how nurses may cope with the deaths of patients exist.
Detachment
Some nurses compartmentalize or detach from their emotions. This may happen more when nurses have experienced more patient death, such as during the COVID pandemic. They also may compartmentalize their feelings during their shift, and, then, express their grief while on break or when driving home.
Adaptive Coping
Although many nurses practice detachment, experts report that a better method is adaptive coping. Experts urge nurses to practice adaptive coping, such as prayer or meditation, debriefing with colleagues, and taking a moment of silence or solitude to grieve and accept the patient's death. Being comfortable with death and dying is essential to being a nurse.
Talk Therapy
Nurses may seek advice from the hospital chaplain or social workers after the death of a patient. Workplaces that provide emotional support for nurses can help them manage stress. These programs also can assure nurses that they value their professional experience.
Support from Loved Ones
Nurses often get close to patients in their care. When they lose a patient, it can feel like losing a friend or family member. Nurses who let their loved ones know about patient deaths can help relieve the grief. Families can provide emotional support by listening compassionately.
Self-Care
Some nurses practice self-care. They may treat themselves to a lighthearted movie or time with family and friends. They may practice gratitude or mindfulness, in recognition that they have a hard job and death comes with the territory.
Code Lavender and Tea for the Soul
Some hospitals and health care providers have a Code Lavender program. This program provides mental and emotional support for grieving health care professionals, including nurses, as well as patients and their families. Similarly, Tea for the Soul is a chaplain-led program for nurses and their specific professional challenges, such as moral distress and compassion fatigue.
Learning How to Manage Stress
Hospitals, long-term care facilities, and other medical facilities cannot function without nurses. However, many challenges in nursing can lead to stress and burnout. Nurses who have the support of their workplaces and who can successfully manage their stress are better positioned to provide high-quality care to their patients. They will make fewer errors due to fatigue and burnout. In short, stress management for nurses leads to better patient outcomes.
Nurses who understand what it takes to provide the best care to patients qualify to be leaders, and they can take on advanced roles with the right training. With a core curriculum that can prepare students for nursing leadership, evidence-based practice, and care quality improvement, Norwich University's online Master of Science in Nursing and online Master of Science in Nursing: Nurse Practitioner programs can prepare students for professional success. Discover more of the program details and start pursuing a career in nursing today.
Recommended Readings
The Dynamic Growth of the Nursing Profession
Effects of the Continuing U.S. Nursing Shortage
How to Prevent Nurse Burnout