What's the Difference Between HIV & AIDS? Statistics, Resources & Hotlines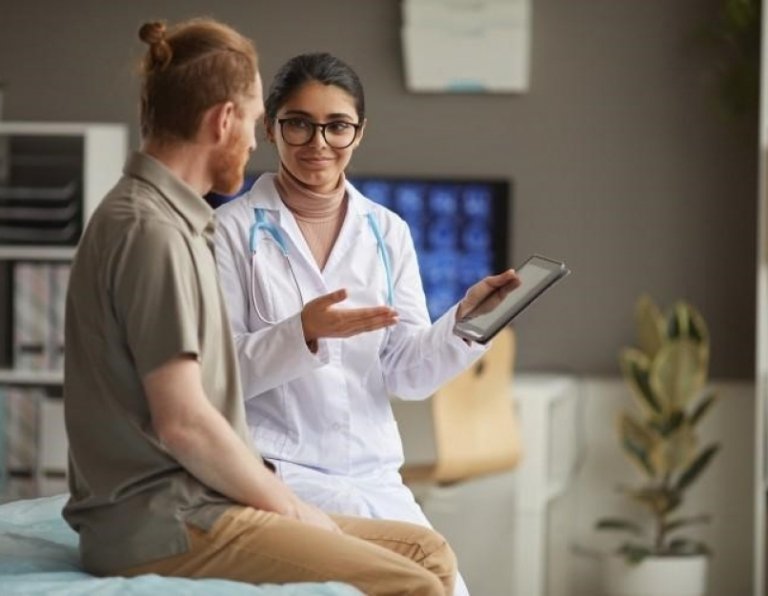 Science has developed vaccines and treatments to some of the deadliest threats to human health including polio, tuberculosis, and smallpox. Medical researchers are working to add the human immunodeficiency virus (HIV) and acquired immune deficiency syndrome (AIDS) to the list of diseases that no longer pose a threat. While the search for a cure for HIV and AIDS continues, treatment of these diseases has advanced to where HIV is now a manageable chronic health condition that doesn't prevent people from leading long, healthy lives.
Even though the terms "HIV" and "AIDS" are well known, many people are unsure of the difference between them. Someone diagnosed with HIV may not be aware of the symptoms and treatments or how the infection can lead to AIDS.
This guide will clarify the difference between HIV and AIDS, explaining prevention and treatment approaches, especially after the initial infection detection. Educating the population about HIV and AIDS helps reduce the threat these diseases pose and improves community health.
Understanding the Difference Between HIV and AIDS
The terms "HIV" and "AIDS" are so closely associated that many people mistakenly consider them synonymous. However, HIV and AIDS are very different:
HIV infects humans and weakens the immune system, compromising the body's ability to fight off bacteria, viruses, and other agents that cause disease.
AIDS is the disease that results from HIV, severely compromising a person's immune system.
A person can have HIV and never develop AIDS, but anyone who's been diagnosed with AIDS has HIV.

What's the Human Immunodeficiency Virus?
HIV is a viral infection that causes the body to lose certain white blood cells that are a key component of the body's immune system and defense against infections and other diseases.
HIV is potentially transmittable when a person has close contact with certain body fluids that contain the virus or cells infected with the virus. The body fluids that transmit HIV include blood, semen, and vaginal fluids.
Over time, HIV destroys white blood cells called CD4+ lymphocytes that protect the body against foreign cells, infectious organisms, and cancer.
Two types of retroviruses—HIV-1 and HIV-2 —cause HIV infections. HIV-1 is more prevalent worldwide, while HIV-2 is the source of many infections in West Africa.
A retrovirus is a type of virus that uses ribonucleic acid (RNA) as its genetic material rather than DNA. After infecting a cell, the virus uses its RNA to make a DNA copy of its genome that it inserts into the DNA of the host cell. When the cell divides, it copies the DNA and begins to express RNA that infects other cells.
What's Acquired Immunodeficiency Syndrome?
AIDS is a disease that HIV causes. Referred to as a syndrome, AIDS manifests as a collection of symptoms that occur as the HIV infection compromises more T cells, which are types of white blood cells. The lack of functioning T cells increases the occurrence of opportunistic infections.
What Are the Symptoms of HIV and AIDS?
Individuals infected with HIV may have a range of symptoms or none at all. The three stages of an HIV infection are:
Acute HIV infection (Stage 1) causes flu-like symptoms within two to four weeks of the initial infection. The symptoms occur in about two-thirds of infected people.
Clinical latency (Stage 2) can last as long as 10 to 15 years and may cause no symptoms at all. This stage is also called "chronic HIV infection" because the virus continues to multiply in the body. When a person's viral load is detectable in the bloodstream, the person can transmit HIV to others.
AIDS (Stage 3) this late-stage of HIV infection occurs when the virus has weakened the body's immune system to the point where opportunistic infections occur.
The following are some symptoms of AIDS:
Rapid weight loss
Profuse night sweats and recurring fever
Extreme fatigue
Prolonged swelling of lymph glands in the neck, armpit, and groin
Diarrhea that lasts a week or longer
Sores in and around the mouth and on the anus and genitals
Blotches on and under the skin that appear red, pink, purple, or brown
Neurological disorders, including memory loss and depression
Different Types of HIV Tests
The biggest difference between HIV and AIDS is that HIV is a virus that infects the body and compromises its ability to fight off other diseases, while AIDS is the final stage of an HIV infection in which the person's immune system is so compromised by HIV that opportunistic infections and diseases occur.
A person must be tested for the virus to determine whether they have HIV. The following are the three types of HIV tests:
Nucleic acid tests (NATs) involve drawing blood from the person's vein and detecting HIV in the blood. NAT is the fastest and most expensive HIV test.
Antigen/antibody tests detect the presence of HIV antibodies and antigens in the blood. The blood is drawn from a vein or extracted via a finger prick.
HIV antibody tests detect HIV antibodies in the person's blood or oral fluid. Tests involving drawing blood from a vein can detect antibodies sooner after the initial infection than either a finger prick or oral fluid.
Populations Impacted the Most by HIV and AIDS
About 1.2 million people in the U.S. have HIV, although approximately 13% of infected individuals don't know it.
Age groups. In 2019, the highest HIV infection rates per 100,000 people in the U.S. were among people ages 25 to 34 (30.1 per 100,000 people in the age group) and ages 35 to 44 (16.5). The infection rate for all age groups was 12.6 per 100,000 people.
Race/ethnicity. In 2019, the highest infection rates by race or ethnicity were among African Americans (42.1 per 100,000 people in the age group), Latinx/Hispanics (21.7), and people of multiple races (18.4). African Americans accounted for 44% of new HIV diagnoses, and Latinx/Hispanics accounted for 30% of new infections; these groups represent only 13% and 18%, respectively, of the total U.S. population.
Sex. In 2019, gay and bisexual men, as well as other men who have sex with men, accounted for 69% of new HIV infections in the U.S. Heterosexual women accounted for 16% of new infections, and heterosexual men accounted for 7% of new HIV infections.
Treatment, Resources, and Hotlines for HIV and AIDS
When the first cases of AIDS were identified in the early 1980s—before the disease even had a name—health care providers knew so little about the disease that there was no formal treatment approach. Today, countries around the world are making great strides in slowing the spread of HIV and AIDS and in reducing the number of AIDS-related deaths.
The number of people with HIV receiving treatment more than tripled globally between 2010 and 2020. UNAIDS reports that of the 37.6 million people with HIV worldwide, 27.4 million are in treatment, compared with only 7.8 million in 2010.
The widespread availability of affordable, quality HIV treatments has prevented an estimated 16.2 million deaths since 2001. Annual AIDS-related deaths declined by 43% between 2010 and 2020.
The rate of new HIV infections fell by 30% globally in the past decade from 2.1 million newly infected in 2010 to 1.5 million in 2020.
Treatment for HIV and AIDS
The goal of much research on HIV and AIDS is to develop effective methods of preventing infection. For example, antiretroviral therapy (ART) has made tremendous strides in reducing the amount of HIV in the bodies of infected people.
ART and other HIV medicines allow most infected people to control the virus within six months.
Infected people must begin HIV treatment as soon after initial infection as possible and continue the therapy despite the length of infection time or their health status.
HIV medicines reduce the viral load and increase the CD4 cell count. The medicines help infected individuals achieve viral suppression: having fewer than 200 copies of HIV per milliliter of blood.
The medicines can bring the viral load so low that an HIV test can't detect it. Undetectable viral loads mean the person has virtually no risk of transmitting the disease to others through sex.
Paying for Care Related to HIV and AIDS
Treatment for HIV and AIDs involves regular medical checkups to keep a close watch on the person's health. While many individuals with HIV and AIDS have private insurance to pay for much of the cost of care, other governmental and non-governmental sources are available to defray some or all related medical expenses. These include:
The Affordable Care Act (ACA) requires that private health insurance cover preexisting conditions, including HIV and AIDS, and prevents insurers from canceling coverage because the person becomes ill.
Federal government assistance for health care expenses is available via Medicaid for people with low incomes and disabilities and some families with children.
The Ryan White HIV/AIDS Program provides primary medical care, support services, and medications to low income people with HIV and AIDS. The program also funds grants to states, counties, cities, and local groups that care for and treat people with HIV and that work to reduce the spread of the disease.
Pharmaceutical companies offer patient assistance programs (PAPs) that dispense free and low-cost antiretroviral medicine to HIV-infected people with low incomes.
Hotlines and Text Lines for HIV and AIDS
While the stigma associated with an HIV diagnosis has dissipated in the years since AIDS first entered the world, people often are reluctant to discuss the disease or seek testing and treatment. AIDS and HIV hotlines serve a vital role in providing advice and support going back to the earliest days of the virus. Hotlines offer anonymous information and assistance for people who believe they may be at risk or simply want to know more about HIV and AIDS. Some of these resources include:
Support Groups and Resources for People Who Have HIV or AIDS
Peer support is effective in helping people meet the challenges associated with HIV and AIDS. Peer support can reduce anxiety and depression, relieve symptoms, and assist people in maintaining treatment regimens. Healthline describes the work that many online HIV/AIDS support forums do. Some of these include:
POZ Community Forums provides moderated discussion boards with information about a diagnosis, treatment, and community resources.
HIV/AIDS TherapyTribe is an online space where people can offer advice and moral support to others who share their experiences with HIV and AIDS.
The Well Project allows women and girls who are living with HIV to participate in moderated forums and read about the experiences of others who are in the same situation.
Information for Family and Friends of People with HIV or AIDS
Supporting and caring for family members and friends who have HIV or AIDS can strain relationships and add tension to everyday interactions. Often, disclosing an HIV diagnosis reveals aspects of people's lives that they may want to keep private. The resulting feelings of guilt and blame can damage family ties and friendships.
Many resources assist family and friends of people who have HIV or AIDS in understanding the effects of the disease and how best to help them.
TeensHealth explains how a young person can learn about HIV and AIDS and support infected people, including keeping the person's condition private, encouraging activities that can relieve stress, and helping the person maintain a healthy lifestyle.
The Foundation for AIDS Research (amfAR) provides an extensive FAQ webpage that addresses when someone is at risk of becoming infected, the HIV testing process, and where to find more information.
Resources for HIV/AIDS Treatment and Support Services
One of the most valuable tools in the effort to treat people with HIV and stem the spread of the virus is information about treatment options and prevention techniques. These sources provide helpful information for individuals and health care professionals about HIV and AIDS symptoms, treatment, and prevention.
CDC, About HIV — The site describes the symptoms of HIV and provides downloadable information on a range of HIV-related topics.
National Institute on Aging, HIV, AIDS and Older People — The site provides information about HIV and AIDS and is targeted to older generations who may be experiencing a change in lifestyle that makes them susceptible to HIV infection.
HIV and AIDS Prevention
The CDC has set a goal of reducing new HIV infections by 90% by 2030, an objective made difficult by the COVID-19 pandemic, the continuing opioid crisis, and continuing gaps in health care for at-risk populations. The ultimate goal of medical researchers, health care workers, and government officials is to end the HIV epidemic by applying a diverse arsenal of preventive measures.
The most effective methods of preventing HIV infection are abstinence, always using a condom when having sex, and never sharing hypodermic needles.
Medications that help prevent HIV infection include Truvada and Descovy for pre-exposure prophylaxis (PrEP), a treatment regimen that is taken daily and intended to prevent HIV infection before potential exposure, and post-exposure prophylaxis (PEP), a preventive treatment regimen that must be taken within 72 hours after a possible exposure to HIV.
Researchers are working on long-acting medications and treatments to prevent HIV infection, including a form of the HIV drug cabotegravir (brand name Vocabria) that's injected once every eight weeks.
Other approaches under investigation to prevent HIV and AIDs are monoclonal antibodies that block both HIV and COVID-19; long-acting drugs, such as lenacapavir; and HIV treatment regimens that are begun during pregnancy using dolutegravir (brand name Tivicay) and efavirenz (brand name Sustiva, among other brand names).
Intervention Programs
The CDC's HIV/AIDS Prevention Research Synthesis Project highlights the evidence-based interventions and best practices available to HIV prevention planners and health care providers in the U.S. The Compendium of Evidence-Based Interventions and Best Practices for HIV Prevention describes five categories of EBIs and best practices:
Resources for HIV and AIDS Prevention
These are among the U.S. government agencies that provide helpful information for individuals and health care professionals about the most effective approaches for preventing the spread of HIV and AIDS.
With HIV and AIDS, Knowledge Is Power—and Life
Defeating HIV and AIDS requires a committed, concerted, and joint effort among nurses and other health care professionals, government agencies, public health officials, medical researchers, communities, and individuals. Right now, the prevention and control of HIV and AIDS depends on access to education, resources, and treatment programs for all people at risk.