Preparing for the Future of Nursing Informatics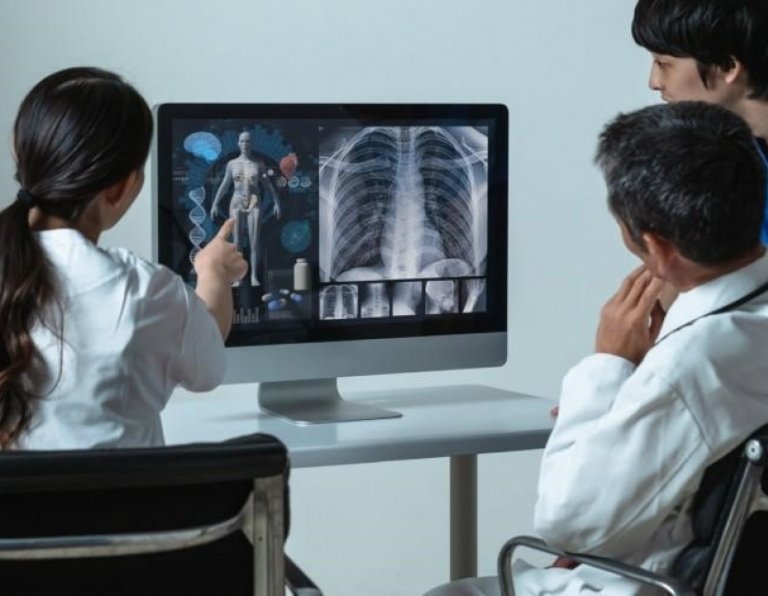 Nursing informatics enables health care organizations to transform data into information that helps health care practitioners, such as nurses and physicians, to deliver the best possible outcomes for patients. It combines nursing science, systems-driven analytics, and information science to identify, capture, manage, and share health care data. A key aim of nursing informatics is providing clinicians responsible for health care decisions with timely, accurate patient health data to deliver patient-centered care and improve outcomes.
Nursing informatics helps improve vital nursing processes like documentation, which is an important aspect of the profession and essential for effective patient care. Before electronic health records (EHRs), nurses recorded patient information on charts. Today, nursing informatics simplifies documentation and automates the transmission of patient data via connected devices to provide access by nurses, physicians, and patients.
Understanding the role of nursing informatics in nursing practice is critical for individuals to advance their health care careers. The benefits of nursing informatics include a reduction in medical errors, lower costs, improved nurse productivity, and better care coordination among nurses, physicians, pharmacists, and others throughout various care stages.
Advancements in the future of nursing informatics will center on automated patient and clinical data records, improved operations at health care facilities, simplified data collection, tracking, and analysis, and real-time access to patient information anytime, anywhere.
Nursing Informatics Future Trends
The success of nursing informatics supports a promising future in its application to nursing practice. In case study after case study, evidence demonstrates that nursing informatics positively impacts the quality of care. The results of one study show that nursing information systems improved quality through better nursing documentation processes, enhanced patient care planning, and optimized workflows. Another case study shows the correlation between the technology used to administer medications and reductions in medication errors, which, in addition to improving patient safety, reduced anxiety in nurses and increased job satisfaction.
Which nursing informatics future trends are on the horizon? Increased connectivity will improve knowledge sharing and collaboration between hospitals, doctors, and patients on a global scale. It will benefit the advancement of medical research and help in diagnosing, treating, preventing, and curing diseases and global epidemics. Faster systems that interact efficiently with each other are needed to support this future vision. But, with increased access comes security concerns, which make data security a top priority in the future of nursing informatics. Today's data breaches highlight the importance of cybersecurity in nursing. In a recent example, a hospital in Kansas paid a ransom to hackers who broke into its network infrastructure and locked access to data. Even after paying the ransom, the hospital gained limited access to the data, as the hackers tried to extort another ransom payment. Thankfully, patient treatments weren't affected.
Nursing informatics future trends also will support patient data analysis.  For example, big data science is a key area of interest, according to a paper presented at the 13th International Conference in Nursing Informatics in 2016. Big data in nursing informatics is a concept that refers to the use of computational techniques to analyze large data sets to reveal patterns and trends that promote patient health and enhance the quality of care. The application of big data science in nursing informatics includes the use of advanced analytics, such as natural language processing, data mining methods, and data harmonization. These techniques enable the capture of unstructured data, identification of patterns, and integration of the data to provide insights that can be acted upon. Better decision-making can lead to improved personalized medicine and health care delivery.

How Norwich Prepares Students for Nursing Informatics
A 2016 study identified core informatics competencies across five nursing areas: clinical nursing, quality management, interprofessional coordination, nursing management, and information technology (IT) management. Individuals looking to succeed in the future of nursing informatics should seek to deepen their knowledge in these areas and enhance their advanced nursing, technological, and analytical skills.
Norwich University's online Master of Science in Nursing program and its Nursing Informatics concentration can prepare graduates with competencies essential for a successful nursing informatics-related career, including leadership, interpersonal acumen and technological skills. The following courses are part of the core curriculum and the Nursing Informatics concentration:

Advanced Nursing Role in the Delivery of Healthcare            
Students learn how to assess and analyze the health care system from a global perspective. Relationships between consumers, providers, regulatory agencies, and policymakers are explored in the context of their impact on health care delivery.

Translating and Integrating Scholarship into Practice            
Students examine evidence-based practice and decision-making theories in the context of nurse leadership. The curriculum introduces key concepts including the integration of evidence-based practice in health care, translational science, and implementation/improvement science.

Quality Improvement, Informatics, and Healthcare Technologies            
Coursework introduces quality improvement science and skills in the use and implementation of informatics and health care technologies. Students examine the concepts of leadership and team building for quality improvement and have the opportunity to conduct a clinical microsystem analysis.

Theoretical and Practice Foundations of Nursing Informatics            
In this concentration course, students learn how IT and nursing science improve patient outcomes through the development of a project on an individual practice site. They explore foundational concepts of nursing informatics and learn practice standards, quality improvement processes, and regulatory and accreditation standards.

Strategic Planning and Practice Applications            
This concentration course explores the practical applications for planning and implementing a health care informatics system. It examines factors for successful system implementation regarding technical standards, system analysis concepts, and data management, including an overview of data analytics.

Using Informatics to Improve Nursing Practice            
This concentration course teaches students to implement technology in the clinical environment while accounting for security and privacy; policy development; and testing and implementation. Students learn key concepts, such as change management, use of technology to generate new evidence, and emerging technologies in clinical practice.

Nursing Informatics Career Paths
Through the application of nursing science, IT, and analytical sciences, nursing informatics professionals help to enrich health care delivery processes and improve patient outcomes by ensuring that key technologies help better connect nurses, doctors, and patients to data and each other.  As nursing informatics is a fairly new field, job growth data are as yet unavailable. But U.S. Bureau of Labor Statistics projections for related positions, such as computer systems analysts and medical and health services managers, predict growth between 9% and 18% from 2018 to 2028.
Graduates of Norwich University's online Master of Science in Nursing program and its nursing informatics concentration can pursue various roles including the following:

Clinical Informatics Specialist          
As nursing credentialed professionals, clinical informatics specialists help improve health care outcomes, patient care, and relationships between patients and clinicians. Through analysis, design, implementation, and monitoring of IT and communication systems, they ensure systems effectively support patient care. Responsibilities of a clinical informatics specialist include integrating systems, resolving issues with software and hardware, recommending improvements for systems and processes, promoting data security, and training staff on the use of data to deliver patient care. The median annual salary for clinical informatics specialists is $76,935, according to PayScale data from September 2019.

Director of Clinical Services            
The director of clinical services is a managerial role. These professionals lead the implementation of programs and systems and supervise staff to ensure effective delivery of patient care. With a combination of analytical, critical thinking, and interpersonal skills, directors of clinical services remain current on health care regulation and often are involved in resolving a wide range of problems in their organizations, including clinical, systems, patient, and staffing issues. As managers, they manage hiring processes and budgets and drive improvement initiatives. The median annual salary for directors of clinical services is $87,161, according to PayScale data from September 2019.

Chief Nursing Informatics Officer      
The role of chief nursing informatics officer (CNIO) has grown concurrently with the rising use of technology in clinical practice. The CNIO defines strategic goals for the development, implementation, and use of technologies that help meet the needs of clinicians and the organization, with a focus on ensuring effective care delivery. They often work with other senior leaders, including chief nursing officers and chief information officers. CNIOs aim to enhance patient health care experiences while meeting governmental and accrediting regulations. The role of CNIO is fairly new, but the BLS reports that chief executives in healthcare earned an average median salary of around $174, 000 in 2018.   

Explore the Future of Nursing Informatics
Individuals interested in honing their advanced nursing knowledge and technological and analytical skills to assume leadership positions in nursing informatics can benefit from Norwich University's online Master of Science in Nursing program. The program's curriculum offers a broad-based knowledge of health systems and essential skills in communication, data analysis, problem-solving, critical thinking, research, evidence-based practice, and management to prepare individuals for key nursing informatics roles.
Explore how Norwich University's online Master of Science in Nursing program can help advance a health care career and prepare nurses and other professionals to make a positive impact on the future of nursing informatics.
Recommended Readings
Six Emerging Healthcare Technologies for Leaders in Nursing
What to Expect from the MSN Curriculum at Norwich University
How Nurse Leadership Can Help Prevent Ransomware Attacks
Sources
What Is Nursing Informatics?, HIMSS
How Nurses Are Using Health Informatics to Improve Patient Care, Electronic Health Reporter
Nursing Informatics: The EHR and Beyond, American Nurse Today
A Hospital System Improves Both Patient Care and Employee Satisfaction, McKinsey & Company
The Future of Health Informatics in 2017 — and Beyond, Electronic Health Reporter
How Nursing Informatics Is Transforming Healthcare Today, HIMSS
Kansas Heart Hospital Hit with Ransomware; Attackers Demand Two Ransoms, CSO
Nursing Informatics Research Priorities for the Future: Recommendations from an International Survey, ResearchGate
A Review of Informatics Competencies Tools for Nurses and Nurse Managers, Canadian Journal of Nursing Informatics
Master of Science in Nursing, Norwich University
A Career Overview of the Nursing Informatics Specialist, Norwich University
What Is Clinical Informatics?, HIMSS
Average Clinical Informatics Specialist Salary, PayScale
Clinical Director's Job Description & Skills List, Houston Chronicle
Average Director, Clinical Services Salary, PayScale
The Role of the Chief Nursing Informatics Officer, American Nursing Informatics Association
Medical and Health Services Managers, U.S. Bureau of Labor Statistics
Computer Systems Analysts, U.S. Bureau of Labor Statistics
Top Executives, U.S. Bureau of Labor Statistics