Commencement and Commissioning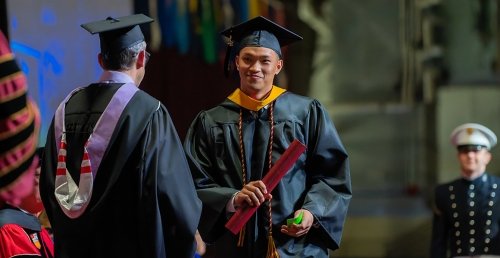 Congratulations to the Class of 2024!
COMMENCEMENT 2024
Saturday, April 27, 2024, 10:00 a.m.  
Shapiro Field House  
Doors open at 8:00 a.m.
ROTC JOINT COMMISSIONING 
Saturday, April 27, 2024, 3:00 p.m. 
Shapiro Field House 
Doors open at 2:00 p.m.
Important Dates 
October 1, 2023 
Graduation applications are due for program completion in a spring or summer term 
(Nov/Dec. program 2023 completion deadline extended to Oct. 1)
March 1, 2024 
Fall Semester and Fall Term Graduation Applications Due
April 26, 2024 
All students graduating with a Norwich University master's degree are invited to attend a traditional academic hooding ceremony on Friday, April 26 from 4 PM to 5:30 PM in the Shapiro Field House. The Hooding Ceremony is a special recognition ceremony for masters candidates. During the ceremony, a faculty member places the masters hood over the head of the graduate to signify their success in completing the graduate program.  
RSVP to Attend the Academic Hooding Ceremony
INFO For
Commencement and Commissioning 2023