Certification vs Degree: Which Advanced Nursing Route is Right For You?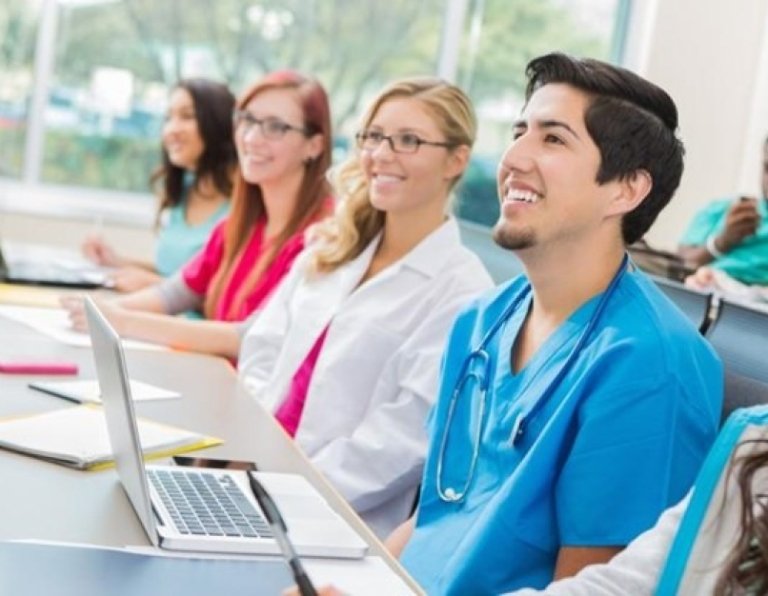 Many nurses seek to further their careers, whether that means assuming more responsibility, practicing with greater autonomy, or simply cultivating a clinical specialization. To pursue any of these goals, they need advanced training. Nurses who want to further their education often decide between a certification vs. a degree.
Both nurse certification programs and graduate degree programs offer significant benefits. Nurses need to consider how each path aligns with their career objectives and personal preferences.
Making the Choice: Nursing Certificate Program vs. Graduate Degree
A good first step is to consider the big picture: What is a nursing certificate program? How does it differ from a graduate degree?
Nursing Certificate Programs at a Glance
Certificate programs are graduate-level educational credits that usually focus on a specific area of clinical care; for example, nurses may pursue a certificate that focuses on women's health, pediatric care, or psychiatric medicine.
Because they specialize in this way, certificates don't offer as comprehensive an education as a graduate degree. Another distinction between the two is that some nurse leadership positions will actually require a graduate-level degree, not merely a certificate.
On the other hand, nursing certificates can be more affordable and require less time than full degree programs. (The timeline varies, but many certificates can be completed in just a few  months.)
A nursing certificate can be a great option for nurses who simply want to further their knowledge in a specific area or who want to sit for a credentialing exam focused on one clinical care area.
Importantly, the term "certificate" can be used in a couple of ways in the nursing profession. Specifically, the field makes a distinction between:
Certificate programs that higher education institutions offer to impart knowledge
Professional and specialty certifications that credentialing organizations offer to assess knowledge
Nursing Graduate Programs at a Glance 
Nurses may also choose to earn postgraduate degrees, such as a Master of Science in Nursing (MSN) or a Doctor of Nursing Practice (DNP). These degree programs can involve special areas of clinical focus, but they're essentially comprehensive courses of study, with in-depth coverage of clinical practice, nursing ethics, nurse leadership, and more.
Earning a graduate degree can be an important way for nurses to take on positions of greater leadership and authority, as well as higher salaries. The downside is that nursing graduate programs are typically expensive. They're also time-consuming: For nurses who already have a Bachelor of Science in Nursing (BSN), earning an MSN usually takes at least another two years.
Those who have concerns about scheduling flexibility and work-life balance may opt for an online graduate program, which offers more accommodation for an already busy life.
Enhancing Nursing Expertise Through a Certificate Program
When deciding between a certification vs. degree program, nurses typically consider the merits of earning a specialized certificate.
Nursing certification programs offer highly focused curriculums meant to help nurses develop their skills and expand their knowledge in a very specific area of practice. Completing a certificate program can prepare a nurse for passing an exam or for shifting to a particular area of health care.
Many nursing certificate programs are aimed at nurse practitioners and other advanced practice registered nurses (APRNs), allowing them to fine-tune their practice. Common examples of certifications available for nurse practitioners include:
Family Nurse Practitioner (FNP)
Adult-Gerontology Primary Care Nurse Practitioner (AGPCNP)
Adult-Gerontology Acute Care Nurse Practitioner (AGACNP)
Psychiatric Mental Health Nurse Practitioner (PMHNP)
For nurses who wish to advance their careers while shifting away from direct patient care, certificates are also available for roles in nursing leadership and nurse informatics.
Enhancing Nursing Expertise Through a Graduate Degree
Alternatively, nurses may choose from numerous graduate degree programs.
Master of Science in Nursing
For nurses who already have a BSN, the next educational tier is the MSN. Earning a master's-level degree can lead to opportunities to deliver patient care at an advanced level, teach other nurses and nursing students, or conduct research.
An MSN or higher can qualify nurses to sit for their nurse practitioner or APRN certification exam and potentially obtain positions commanding higher salaries. MSN programs include courses in advanced clinical care, public health, and health care systems and administration.
Doctor of Nursing Practice
Nurses may also pursue a terminal degree; the DNP is a doctorate-level distinction that focuses more on practice than on research and teaching. DNP degrees offer an in-depth education in evidence-based practice. A DNP degree can open doors to high-level nurse leadership roles, including that of chief nursing officer (CNO).
Doctor of Philosophy in Nursing
The other option for a terminal nursing degree is to get a Doctor of Philosophy (PhD) in Nursing. This is the degree to choose when aiming for a nurse educator role, including a position on a nursing school faculty. Earning a PhD can also be great preparation for research-based roles, focusing more on the academic side of nursing.
Choosing a Pathway to Advanced Expertise in Nursing
To pursue diverse career opportunities in nursing, advanced education is essential. Norwich University's online MSN program offers a breadth of possibilities, including both a master's degree and post-master's certificates. For nurses seeking the educational trajectory best aligned with their goals and preferences, Norwich's offerings are a great place to start. Explore the opportunities today.
Recommended Readings
Nurse Practitioner Scholarships: A Guide for MSN Students
Nursing Apps and Technology to Optimize Patient Care
Sources:
Graduate Certificate vs. Master's Degree: Which Is Right For You?, Indeed
Graduate Certificate Programs Can Be Cheaper, Faster Alternatives to Grad School — Here's How They Compare to Master's Degrees and What You Should Consider Before Signing Up for One, Business Insider
Is a Post-Grad Certificate Program Worth It?, SoFi
Graduate Degrees vs. Certificates: Which Is Right for You?, Peterson's
Certificate, Certification, or Both? What's Right for You?, Institute for Credentialing Excellence
Certification vs. Certificate — What's the Difference?, Board of Certification for Emergency Nursing
Our Certifications, American Nurses Credentialing Center
Post-Graduate APRN Certificate Programs & CCNE Accreditation FAQs, American Association of Colleges of Nurses
Master's Education, American Association of Colleges of Nurses